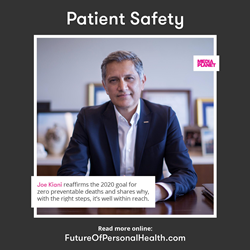 With medical errors being the third leading cause of death in the United States, there is no more important issue in health care today than patient safety...
NEW YORK (PRWEB) March 28, 2018
Helping to inspire education and awareness on patient safety, Mediaplanet announces the launch of this March's edition of "The Future of Patient Safety." This campaign will advocate for the 1,000 deaths a day that occur due to preventable hospital error - while shedding light on the leadership taking action and discovering better practice and protocol for our nation's health care facilities.
What do aerospace, maritime operations, nuclear power, the military and health care have in common? Each recognizes the requirement for the tools to identify and reduce potentially dangerous impact to their fields. Simulation plays an integral role in the effort to prevent harm and increase safety for patients, a crucial part of the widespread effort in our health care system to reach zero preventable deaths by 2020.
This campaign was made possible with the incredible support of B-Line Medical, who, through inspiring innovation and education, is pioneering technological advances in simulation. With their mission to provide health care educators and clinicians with innovative video-driven solutions to effect real and immediate improvement in the delivery of care, B-Line Medical brings their expertise to life through the Circle of Safety.
"With medical errors being the third leading cause of death in the United States, there is no more important issue in health care today than patient safety," says B-Line Medical Co-Founder and CEO, Chafic Kazoun. "We mark and promote Patient Safety Week each year as it is a core component of the work we do every day," he adds. "Our video-driven solutions, SimCapture and LiveCapture, are utilized at hundreds of top medical schools, nursing programs and hospitals. The ability to record, debrief and track learners and clinicians alike is a proven means to immediately improve patient safety. Our vision is to enable all levels of health care to embrace the transparency of video capture and review to reduce preventable medical errors. As one of our early adopters stated, LiveCapture shows us what we actually do versus what we think we do. Understanding this difference is a critical component to improving patient safety."
B-Line Medical joins us in support of Patient Safety Awareness Week 2018 and shares their exciting LiveCapture platform and its recording capabilities in live clinical events and while offering secure streaming, monitoring, debriefing and integrated checklists. LiveCapture provides a framework for hospitals to supplement and accelerate their quality improvement programs. With B-Line Medical clients now at 70 percent of the 2017-2018 U.S. News & World Report best hospitals, B-Line Medical has a proven track record of advancing QI initiatives and achieving rapid ROI. To learn more about LiveCapture, click here to view a short video, or check out their website at blinemedical.com.
The print component of "Future of Patient Safety" is distributed as an educational publication at a series of health care professional events, with a circulation of approximately 35,000 copies and an estimated readership of 105,000. The digital component is distributed nationally, through a vast social media strategy and across a network of top news sites and partner outlets. To explore the digital version of the campaign, click here.
About Mediaplanet
Mediaplanet specializes in the creation of content marketing campaigns covering a variety of industries. We tell meaningful stories that educate our audience and position our clients as solution providers. Our unique ability to pair the right leaders with the right readers, through the right platforms, has made Mediaplanet a global content marketing powerhouse. Our award-winning stories have won the hearts of countless readers while serving as a valuable platform for brands and their missions. Just call us storytellers with a purpose. Please visit http://www.mediaplanet.com for more on who we are and what we do.
Press Contact:
Alexandra Flecha-Hirsch
alex.flechahirsch(at)mediaplanet.com
(646) 979-2835