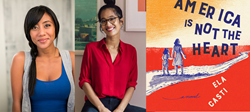 I'm thankful for being able to be apart of such a beautifully written story.
HOLLYWOOD, Calif. (PRWEB) March 28, 2018
Donnabella Mortel (How to Get Away With Murder, NCIS, The Young and The Restless) is back at it, releasing another audio book narration, this time with author Elaine Castillo. Mortel recently narrated "This Shattered World: A Starbound Novel & Illuminae", by  Amie Kaufman and "Wild Cards IV: Aces Abroad", by George R. R. Martin. 
Castillo is a San Francisco, California native and she graduated from the University of California, Berkeley. "America Is Not the Heart" is her first novel, and is published by Penguin Random House publishing.
The novel is about a young woman haunted by the political upheaval in the Philippines, disowned by her parents, and essentially already on her third life. She's welcomed with open arms by her uncle in the Bay Area, no questions asked. His younger wife knows enough about the might and secrecy of the De Vera family to keep her head down. But their daughter – the first American-born daughter in the family – can't resist asking Hero about her damaged hands.
An increasingly relevant story told with startling lucidity, humor, and an uncanny ear for the intimacies and shorthand of family ritual, "America Is Not the Heart" is a sprawling, soulful debut about three generations of women in one family struggling to balance the promise of the American dream and the unshakable grip of history. With exuberance, grit, and sly tenderness, here is a family saga; an origin story; a romance; a narrative of two nations and the people who leave one home to grasp at another.
Mortel was nice enough to sit down with us to answer a few questions about her narration experience:
Chris: "Thank you for taking the time. What made you want to get into doing audio books?"
Mortel: "No problem at all. Thank You. I always thought it could be a fun way to express yourself through such a unique medium: your voice. My very first audio narration was 'This Shattered World.' The book was so well written and told in the first person. I was able to explore and explain my world in real-time in a new way that was really fun."
Chris: "How was it like narrating an entire book? Tiring I bet? "
Mortel: "Long sessions and a lot of words, but fun! It was a great way to exercise my creativity and delve into a part of my own life that I had not touched based with in a long time, that being my filipino side. A lot of personal memories and attachments came up in the process, which was cool. I'm thankful for being able to be apart of such a beautifully written story."
Chris: "Any other audio books or projects on the horizon that we can look out for? "
Mortel: "I do thankfully. I'll be on an episode of NBC's Reverie, and another show I can't mention any specifics on yet. I'm also currently working on a few creative ideas with Kevin L. Walker. Just working towards putting some awesome work out for people."
The audio book is currently available for Pre-Order and is currently scheduled to be released on April 3, 2018.
For more information on the 'America Is Not The Heart' and/or to pre-order a copy visit Penguin House Random's website: https://www.penguinrandomhouse.com/books/549486/america-is-not-the-heart-by-elaine-castillo/9780525529552
For more information on Donnabella, check out her Official website: https://donnabellamortel.com/