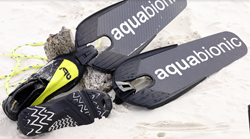 In developing the aquabionic abs line, my team and I are attempting to inspire people to embrace the ocean and to reinvigorate the sport with a revolutionary technology.
BOWEN ISLAND, British Columbia (PRWEB) March 27, 2018
The aquabionic abs system was built for performance, precision and out of passion for aquatic sports. aquabionic abs allows divers and snorkelers to effortlessly attach or remove modular fin-blades to enter and exit the water more easily than with any other product available. By eliminating fin foot pockets and traditional diving boots, the complete abs system, consisting of aquatic hybrid shoes, fin blades and bindings, weighs under four pounds. In combination with a packing length of 18 inches, the abs system will be the most travel-friendly high-performance fin available.
Today, Vancouver-based diving company CETATEK launched the aquabionic abs fin system on Kickstarter with the hopes of raising $65,000 to bring their innovative diving fins to life.
The aquatic hybrid shoes allow users to walk safely on any surface, and once ready to dive, simply clip on their choice of interchangeable fin blades. aquabionic abs features an instant secure step-in binding connection while on hard surfaces and a one-hand instant secure connection to the modular fin-blades while in the water.
aquabionic abs is comprised of three components: aquatic hybrid shoes with specialized sole binding inserts, binding clips and modular blades for a variety of diving or snorkeling activities. Interchangeable fin blade modules are available for a variety of technical kick styles and for all levels of divers. The blade modules include: a warp blade, a warp hybrid blade, and a longer carbon blade.
CETATEK's patented warp (water adapting responsive propulsion) technology anticipates a diver's kick impulse and amplifies the strength and kick style of any diver by actively adapting the fin blade profile during use. This results in reduction of surface air consumed and overall more efficient propulsion.
"In developing the aquabionic abs line, my team and I are attempting to inspire people to embrace the ocean and to reinvigorate the sport with a revolutionary technology," explained President and CEO Jan Ortwig. "Our protected slogan, 'technically barefoot' paraphrases our aspiration to create the perfect balance between physical requirements, ultimate user friendliness and design."
CETATEK's unique system delivers unparalleled performance, reliability, technological innovation and material quality. The team behind the aquabionic abs system is introducing the World's very first iteration of a boot-binding system for diving fins featuring Y-frame interface technology.
Early backers can pre-order the aquabionic abs system starting at just $195, a 35% discount off the retail price. Set to ship in November 2018, the aquabionic abs system is the latest high-tech accessory that divers worldwide have been waiting for. To learn more, visit the campaign page at bit.ly/aquabionicKS.
About CETATEK
CETATEK is a company based in Vancouver Canada, well known as the gateway to the best cold water diving in the world. CETATEK's underlying goal is to re-examine the issues that have been facing divers for generations, to provide new and elegant solutions that outperform the status quo. aquabionic fins are just the first of many new products that are backed by a promise to fundamentally change the way divers move, see, and explore the waters of the world. To learn more, visit https://cetatek.com/.