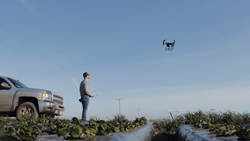 The SLANTRANGE 3PX is a great example of the power and flexibility we're bringing to our commercial customers through new integrations with our Payload SDK.
SAN DIEGO (PRWEB) March 28, 2018
SLANTRANGE, Inc., a leading provider of remote sensing and analytics systems for agriculture, announced today the release of their new 3PX multispectral sensor system. The 3PX integrates seamlessly with DJI Matrice 200 Series drones via DJI's recently announced Payload Software Development Kit (SDK), together delivering an advanced imaging and analytics platform for enterprise drone operations in agriculture.
"The SLANTRANGE 3PX is a great example of the power and flexibility we're bringing to our commercial customers through new integrations with our Payload SDK," said Jan Gasparic, Head of Enterprise Partnerships at DJI. "By using our SDK capabilities, SLANTRANGE can provide a new level of integration between their world-class technology for aerial crop measurement and analysis and our reliable and powerful Matrice 200 Series drones. This turnkey package makes putting drone solutions to work in the field both simple and efficient."
The 3PX builds upon SLANTRANGE's proprietary technologies to deliver efficient new methods of characterizing agricultural crop development across a broad range of crop types and applications. DJI's new Payload SDK provides direct access to the drone's powerful data communications system, giving operators the ability to communicate directly with the 3PX during flight and receive its data in real-time. Combined with the software tools in DJI's SDK, app developers can build customized apps for the 3PX to serve a variety of advanced agricultural applications, enabling all new capabilities, including:

Real-­time access to in­flight 3PX sensor data to ensure mission success and reduced operations costs
Integrated mounting, power, and communications interface to improve system reliability
Instant sensor payload swapping, configuration, and mission planning to accommodate differing mission needs of DJI Matrice 200 Series users
Apps from DroneDeploy and Beyond The Cube are already available and take advantage of these new features.
As with all SLANTRANGE sensors, the 3PX is tightly integrated with SlantView™, the in­field software analytics solution developed by SLANTRANGE that provides quantitative metrics about the status, health, and yield potential of crops immediately after a drone flight. This "edge compute" architecture enables growers, agronomists, and drone service providers to scale their operations almost anywhere in the world, with no dependence on network infrastructure or large­scale computing power. The 3PX also incorporates SLANTRANGE's patented technique for delivering accurate crop measurements under changing sunlight conditions, a critical requirement for trend analysis and yield forecasting.
"We're very excited to provide the turnkey solutions and trusted reliability our enterprise customers have been asking for," said Michael Ritter, CEO of SLANTRANGE. "As enterprise demands have shaped the ecosystem of commercial drone hardware, software, and services, we have seen customers move toward fully integrated systems and DJI's drone platforms. DJI's Payload SDK has enabled our team to build a seamlessly integrated solution for the industry­-leading DJI Matrice 200 Series drones, so our customers in agriculture, energy, and transportation around the world can quickly and easily incorporate spectral imaging and analytics into their operations."
For more information on the 3PX, visit: go.slantrange.com/3PX-­Launch
The 3PX will begin shipping in April through the SLANTRANGE online store or from any of SLANTRANGE's global distributors.
About SLANTRANGE
SLANTRANGE is an agricultural intelligence company that develops and markets sensors and analytics systems designed specifically for the needs of agricultural users. By quickly providing insights from the field, SLANTRANGE gives growers, agronomists, and researchers more control over agricultural land, helping to reduce operational costs and improve decision making. To learn more, please visit http://www.slantrange.com.