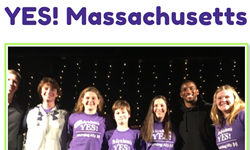 The purpose of Learning Ally's YES! Program is to help students with dyslexia recognize their strengths and weaknesses, build confidence and learn about tools to become strong self-advocates.
WALTHAM, Mass. (PRWEB) March 28, 2018
Harvey Hubbell V, winner of four Emmys for documentaries, will be headlining a career workshop sponsored by the Massachusetts YES! Program. The workshop, "Dyslexia Spells Success: Career Exploration," will feature Hubbell and other professionals discussing their journeys with dyslexia. It will also include a screening of Hubbell's 2013 film "Dislecksia: The Movie" for parents.
During the workshop, students will participate in a series of small-group sessions with mentors from such varied fields as chemistry, pediatrics, plumbing, and consulting, as well as speak with a two-time U.S. Olympian.
The focus will be on sharing individual stories of how dyslexia impacted and influenced career development, as well as giving participants some hands-on experience of what careers in these various fields entail.
YES! Ambassadors will team up with participants to build connections with mentors and to encourage discussion about career interests.
The workshop will take place on Saturday, April 7th, from 9:30am-12 pm at the Chapel Hill-Chauncy Hall School (379 Lexington Street) in Waltham. Cost is $10 for YES! members, $15 for non-members.
Register online via the Learning Ally website: https://1in5.learningally.org/YES-Program/YES-Massachusetts
About the YES! Program: The YES! Program stands for Youth Examples of Self Advocacy and is sponsored by the Learning Ally organization. The purpose of YES! is to help train students with dyslexia to recognize their strengths and weaknesses, build confidence and provide them with the tools to become strong self-advocates. Student Ambassadors (ages 12-18) are trained in advocacy and communications skills to help mentor younger dyslexic students.
Here's a link to the YES! Program (click on Massachusetts state icon for more info): http://explore1in5.org/YES-Program
About Dislecksia: The Movie
What do Billy Bob Thornton, Stephen J. Cannell and Joe Pantoliano have in common with 1.4 billion children and adults worldwide? Dyslexia. Harvey Hubbell explores issues surrounding dyslexia through a very personal lens, weaving his own lifelong experience with the research of scientists, the practice of educators, and the life experiences of celebrities, politicians, and adults and children living with dyslexia. Dislecksia: The Movie is a powerfully touching and entertaining documentary that mixes humor and perspective with insight and analysis. The film educates and illuminates many misconceptions about dyslexia, while underlining the need for raised awareness, early identification and social change. Watch the trailer at: vimeo.com/75438185
About Learning Ally
Learning Ally is a leading nonprofit ed-tech organization delivering a comprehensive learning solution for struggling readers in elementary, middle and high schools. Our proven solution includes an extensive library of human-read audiobooks that students want and need to read at home and at school, along with a suite of teacher-focused resources that ensure student success. This reading experience helps accelerate learning, enables a new level of access to knowledge and powerfully increases confidence and self-belief.
Learning Ally successfully partners with more than 13,000 U.S. schools, districts and leading state education systems across the country to empower over 300,00 students with improved comprehension, vocabulary, fluency and critical thinking skills. For over 70 years, the organization has helped to transform the lives of struggling readers by bridging the gap between their reading capability and their academic potential to become confident, lifelong learners who thrive in school and beyond.
Learn more about Learning Ally. 800-221-1098. http://www.learningally.org.