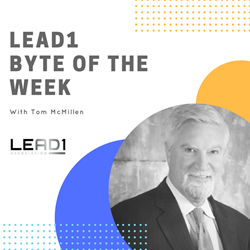 WASHINGTON, D.C. (PRWEB) March 28, 2018
The LEAD1 Association, which represents the athletic directors of the 130-member schools of the Football Bowl Subdivision (FBS), has launched a new video series discussing issues impacting college athletics. The "LEAD1 Byte of the Week" will be hosted by LEAD1 CEO Tom McMillen and videos will be published both on the Association's website as well as on its social platforms.
"There is strong interest in many of the issues influencing college athletics," McMillen said. "We want to contribute to the discussion about college sports and delve into topics affecting our membership and the Division 1 landscape."
The series will debut today, Wednesday, March 28, and will air each Wednesday. The first video in the series discusses the NBA's one-and-done rule in relation to college basketball. Click here for the link: https://www.youtube.com/watch?v=wVGUspXhde4&feature=youtu.be
Upcoming episodes will discuss NIL concerns (use of a student-athlete's name, image, and likeness), solutions for reforming college basketball, issues involved with air charter travel, and sports betting.
About the LEAD1 Association: LEAD1 is an association of the athletic directors of the 130 universities that compose the NCAA Division I Football Bowl Subdivision (FBS). The primary role of the LEAD1 Association is to assist the athletic directors, the sports programs, and the personal development of student-athletes. LEAD1 supports the athletic directors of America's leading intercollegiate programs in preparing today's students to be tomorrow's leaders. The Association seeks to accomplish its mission by focusing on shaping the rules of college sports, advocating for our future, and providing services to our members. For more information, please visit our website at http://www.LEAD1Association.com.