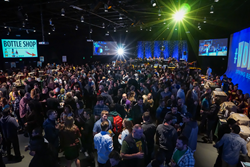 Featuring the last kegs in the entire world of Bale Breaker's Ossifier Jameson Whiskey Barrel-Aged Double IPA!
SEATTLE, Wash. (PRWEB) March 28, 2018
Hunting for Easter eggs filled with candy is child's play; hunting for new favorite Scotches, whiskeys, and craft beers is another story. On March 30 & 31, Seattle Scotch & Beer Fest is celebrating Easter weekend by throwing an Easter Egg Hunt for grown ups. Fremont Studios transforms into a backyard hunting ground as guests search for their new favorite tastes. Tickets are now on sale to America's largest Scotch and Beer Tasting event at http://ScotchBeerFest.com.
The Grand Tasting Room is where the hunter will find the largest quantities of "Easter eggs," with 50 craft beers, cocktails featuring Jameson Irish Whiskey and The Glenlivet Scotch Whisky, served 2 ways, and wine waiting to be discovered. Hunters must be strategic in their use of tasting tokens. Try an approach of variety; unveiling tastes of local craft beers from the likes of newcomers Bale Breaker Brewing or Jellyfish Brewing, alongside heavyweights like Fremont Brewing, Lagunitas Brewing, and Schilling Hard Cider.
In the Spirit Room, hunters will discover two golden eggs – the Scotch Flight and the Irish Whiskey Flight. Hunters may sample both the Scotch flight, featuring The Glenlivet Founder's Reserve, The Glenlivet 15 Year French Oak, The Glenlivet 18 Year, The Glenlivet Nadurra First Fill, The Glenlivet Nadurra Peated Cask Finish, and The Glenlivet Nadurra Oloroso; and the Irish flight, featuring Jameson Original, Jameson Caskmates Stout Edition, Jameson Caskmates IPA Edition, Jameson Black Barrel, Jameson Cooper's Croze, and Jameson Blender's Dog. Or they may choose to sample one of the two.
Then hop on over to the Barrel Room featuring offerings of Bale Breaker Brewing's extremely limited Ossifier Jameson Whiskey Barrel Aged Double IPA, Dormancy Breakfast Stout and more. These craft beers pair beautifully with Jameson Caskmates IPA edition and Jameson Caskmates Stout edition. But don't doddle on touring the Barrel Room as the last Ossifier IPA kegs in the entire world will be tapped and enjoyed til the last drop at Seattle Scotch & Beer Fest.
Once the hunters have fully exhausted the Easter egg hunt for grown ups, they can fill the remainder of the Easter basket in the Seattle Scotch & Beer Fest Bottle Shop, sponsored by Celebrity Cruises. Full bottles of the spirits sampled will be available for purchase – TAX FREE!
Seattle Scotch & Beer Fest is a fundraiser for Seattle Humane, helping local pets find their forever home around the region.
Tickets to Seattle Scotch & Beer Fest are now on sale. Guests can choose from three admission types and have the option to purchase admission to limited-seating Top Shelf Seminars. For more information and to purchase tickets, visit http://www.ScotchBeerFest.com.