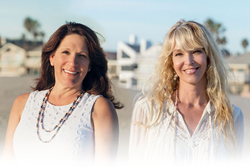 OXNARD, California (PRWEB) March 28, 2018
Haute Residence welcomes Desti Centineo-Mabee and Michele Losey to its invitation-only network of top brokers. As Haute Residence partners, Desti and Michele exclusively represent the high-end real estate market in Oxnard, California.
Long-time Oxnard residents with vast knowledge of the area, Desti and Michele provide truly extraordinary personalized attention to every aspect of purchasing or selling luxury residential or commercial property. From innovative, customized marketing, cutting-edge technology, up-to-date and accurate market reports to home staging, they execute every activity with utmost confidentiality and attention to customers' specific needs.
At Remax Gold Coast, Desti and Michele complement their white-glove services through an experienced team of marketing specialists, a commercial broker with 40 years of experience and legal counsel that specialize in all aspects of Ventura County Real Estate.
Desti and Michele hold designations in the luxury, resort and second-home markets, distressed property representation, negotiations as well as ethics training.
About Haute Residence:
Designed as a partnership-driven luxury real estate portal, Haute Residence connects its affluent readers with top real estate professionals, while offering the latest in real estate news, showcasing the world's most extraordinary residences on the market and sharing expert advice from its knowledgeable and experienced real estate partners.
The invitation-only luxury real estate network, which partners with just one agent in every market, unites a distinguished collective of leading real estate agents and brokers and highlights the most extravagant properties in leading markets around the globe for affluent buyers, sellers, and real estate enthusiasts.
HauteResidence.com has grown to be the number one news source for million-dollar listings, high-end residential developments, celebrity real estate, and more.
Access all of this information and more by visiting: http://www.hauteresidence.com