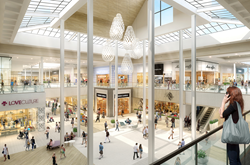 Through this renewal, Northpark, as one of Mississippi's largest indoor shopping destinations, will reassert itself as the retail and cultural heart of the community.
JACKSON, Miss. (PRWEB) March 28, 2018
Northpark and Pacific Retail Capital Partners (PRCP) officially broke ground, March 8, 2018, on a multimillion-dollar renovation project. Work began immediately to update and renovate Northpark, a 34-year-old Ridgeland, MS indoor institutional shopping destination.
Phase 1 plans for the 958,000-square-foot property include new public entrances, corridors, amenities, public restrooms, and common-area gathering spaces. The stunning look will combine Southern charm with modern elemental architecture and design. Other enhancements will include fresh interior and exterior landscaping and a complete resurfacing of the parking lot.
"The partnership with Pacific Retail has been wonderful," said Ridgeland Mayor Gene McGee at the groundbreaking ceremony. "When the company came to us and shared their vision for Northpark, it created tremendous excitement for us because we knew that Northpark was going to become something special and would continue on as a strong economic catalyst for the future."
The renovation will include a complete transformation of the current food court to a more open and spacious café-style Eatery, offering fresh dining options and updated dining areas where visitors will be able to comfortably gather and relax during their shopping visits.
The Eatery will feature a large, high-resolution interactive digital display designed to provide continuous, motion-activated content, including targeted messaging. There will also be an electronic directory and interactive gaming designed to create a real-time connection and unique shopping experience for families. This engaging technology will allow Northpark to provide a measurable, added-value service for their retail tenants, driving more sales and ensuring brand recognition and customer loyalty.
The redevelopment will also incorporate public art features from area artists, a state-of-the-art children's play area, and a new Family Lounge featuring private nursing areas, baby-changing stations, a large child-friendly restroom, and amenities to entertain children while shoppers relax and recharge.
"Through this renewal, Northpark, as one of Mississippi's largest indoor shopping destinations, will reassert itself as the retail and cultural heart of the community," said Najla Kayyem, senior vice president of marketing for Pacific Retail Capital Partners. "The Northpark revitalization pays homage to the community's history while transforming it into a progressive, fashionable, inviting, and family-friendly gathering place to create new memories."
Since first opening in 1984, Northpark has been a vital contributor to the local, county, and state economies. Northpark currently provides 40 percent of Ridgeland's tax base.
The renovation process will not impact accessibility and convenience for shoppers, as the majority of work will be performed after hours. Phase 1 is projected for completion in time for holiday shopping this November.
About Northpark
Mississippi's premier indoor shopping destination, Northpark is conveniently located one mile east of I-55 at 1200 E. County Line Road, Ridgeland. Northpark is a one-stop family friendly shopping destination with more than 120 in-demand retailers with offerings including family apparel, jewelry, sporting goods, home accessories, dining, and more. Featured retailers include Dillard's, Belk, JCPenney, H&M, Victoria's Secret, Buckle, Windsor, Hollister, and PacSun. Dining options include The Med Grille, Steak Escape, Stir Fry 88, Kelly's Cajun Grill, Chick-fil-A, and more.
For additional information:
Website: northparkmall.com
Facebook: https://www.facebook.com/NorthparkMallMS/
Instagram: @NorthparkmallMS
#TheNewNorthpark
About Pacific Retail Capital Partners
Pacific Retail Capital Partners (PRCP) is one of the nation's premier retail operating groups of large open-air centers and enclosed malls, with more than $1.8 billion in retail assets presently under management in the United States. Based in Southern California, PRCP provides end-to-end sourcing, assessment, underwriting, valuing, development, and asset management of retail real estate with a proven track record of repositioning retail properties. PRCP strategically manages over 11 million square feet of regional malls and open-air lifestyle centers. The executive team has over 150 years of collective real estate expertise with deep experience in leasing, marketing, operations, design, development, investment, and finance. With a keen focus on enhancing the value and quality of its growing portfolio, PRCP is dedicated to creating a unique, strategic vision for each property and exceeding the highest expectations of retail investors, retailers, and consumers.
For additional information:
Website: pacificretail.com
Facebook: https://www.facebook.com/pacificretailcapitalpartners/
Instagram: @PacificRetail