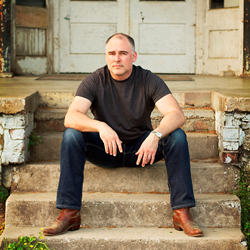 I can't think of a more fitting or beautiful spot to talk writing, editing, and publishing books over a few cocktails," said Atkins. "...Key West is the perfect place to contemplate the enduring fascination of crime fiction."
KEY WEST, Fla. (PRWEB) March 28, 2018
Ace Atkins, the multi-award winning, "New York Times" bestselling author of twenty-one novels is to headline a smash hit-list of mystery writers and true-crime experts at the 5th annual Mystery Fest Key West, set for June 22-24 in Key West, Florida.
Ranked among the topflight of mystery writers, in addition to several acclaimed stand-alone novels, Atkins has produced two highly successful series of his own conception—The Nick Travers series and the Quinn Colson series. In 2010, already firmly established as an A-list author, Atkins came to the rescue of bereft Robert B. Parker "Spenser" fans when he was tapped by the late author's estate to continue the iconic private eye series – no small compliment, as Parker's character had spawned a passionate cult following sure to skewer a writer lacking the dexterity to characterize the private investigator's unique persona.
Writing in flavors that range from Southern grit to Boston hard-boiled, and time-frames from historic to contemporary, Atkins, a former crime reporter for "The Tampa Tribune" has been nominated for every major award in crime fiction along with a Pulitzer Prize nomination for investigative journalism.
"I can't think of a more fitting or beautiful spot to talk writing, editing, and publishing books over a few cocktails," said Atkins. "From To Have and Have Not" to "92 in the Shade" and John D. MacDonald to James W. Hall, Key West is the perfect place to contemplate the enduring fascination of crime fiction."
Joining Atkins at the popular celebration of sleuthing are Special Guest of Honor, the multi-award winning editor and publisher Otto Penzler - proprietor of "The Mysterious Book Shop" in New York City, and Special Guest Presenter, "New York Times" and "USA Today" bestselling author Heather Graham, along with "New York Times" bestselling author Lisa Black, bestselling and award-winning author Nancy J. Cohen; "New York Times" bestselling author Diane A.S. Stuckart; "New York Times" bestselling co-author Charles Todd, and many others.
"Mystery Fest Key West is a boutique-sized convention with lots of direct interaction between authors and audience," commented Fest co-founder Shirrel Rhoades. "And, because of the caliber of our guest authors, the fascinating panels and unique social events where authors and audience mix and mingle —and all in a tropical island paradise—we also tend to attract writers and fans of other genres as well."
In addition to panels and presentations with some two dozen high profile and award-winning mystery authors and true-crime experts who'll be sharing the inside scoop on story-crafting and the technicalities of criminal investigation and forensics, 2018 Fest highlights are to include book signings, professional publishing and marketing discussions, a mini Conch Train tour, and annual presentation of the 2018 Whodunit Mystery Writing Competition and Award.
Sponsored by the Monroe County Tourist Development Council, the Key West Citizen daily newspaper, Mystery Writers of America – Florida Chapter, the Helmerich Foundation and the Florida Keys Council of the Arts, all panels and presentations will take place at the DoubleTree Resort by Hilton Grand Key in Key West. Event registration is $195 and includes all panels and presentations, a luncheon and a brunch at Key West's historic seaport. For a full Fest schedule, online registration, and links to accommodations visit MysteryFestKeyWest.com.