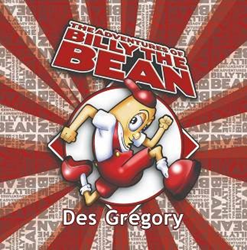 "We are proud to be the publisher of this imaginative children's story that introduces Billy the Bean. Be ready to be enchanted." - Robert Fletcher, CEO of Strategic Book Publishing and Rights Agency
(PRWEB) March 30, 2018
This dynamic children's tale introduces Billy and his new-found friends as it explains how his story began.
Billy Bean is an ordinary boy who loves to eat baked beans. It's his favorite food! One day, Billy eats a magic bean, which changes his life forever, and creates a new children's hero. Each of the four stories in the book provides a challenge for Billy and a creative exercise for young readers.
The author says Billy's tales "will never be finished. There will always be another Billy Bean story to tell."
"We are proud to be the publisher of this imaginative children's story that introduces Billy the Bean. Be ready to be enchanted," said Robert Fletcher, CEO of Strategic Book Publishing and Rights Agency.
About the Author: Des Gregory entered the entertainment business after serving with the Royal Air Force. Playing numerous venues, theatres, and several cruise liners, he settled with his family on the island of Jersey in the Channel Islands. After winning a writing competition in the Sunday People Magazine, he wrote his first novel Edgefield House. He then teamed up with artist Mark Holley for this children's book. "I hope it gives the reader as much pleasure reading it, as it gave to me writing it."
THE ADVENTURES OF BILLY THE BEAN (ISBN: 978-1-62857-564-4) is available for $33.50 and can be ordered through the publisher's website:
http://sbprabooks.com/DesGregory or at Amazon.com or Barnesandnoble.com.
WHOLESALERS: This book is distributed by Ingram Books and other wholesale distributors. Contact your representative with the ISBN for purchase. Wholesale purchase for retailers, universities, libraries, and other organizations is also available through the publisher; please email bookorder(at)sbpra(dot)net.