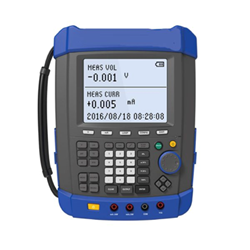 With the introduction of this Process Calibrator, our customers will be equipped to test and calibrate almost any process parameter.
TORONTO (PRWEB) March 28, 2018
GAOTek Inc., a leading provider of fiber optic and telecommunication testers, electronic measurement instruments and other advanced engineering products, introduces a highly accurate and stable Process Calibrator which can be used for testing and calibration of industry instruments and equipment in the laboratory setting.
This device is equipped with powerful functions which can not only tests or simulate TC and RTD signals; but can also measure and control output voltage (in milli-volt and volt), current (in milli-ampere), and many other types of electric signals required during industry control process.
GAOTek's Process Calibrator comes with advanced built-in battery management system and 7.4 V/7800 mAh lithium battery, which can easily last for over 8 hours during site measurement work. Apart from this, this device has 5 1/2 digit input/output display and manual/auto cold junction compensation and setting.
"We have always believed in delivering value, benefits and quality to our customers at substantially better prices than our competitors. GAOTek Process Calibrator with Auto Power Off (TC, RTD signals) is no different as it is powered by our state of the art technology, offers world-class features and is extremely easy to use in the field," says Dr. Frank Gao, CEO, GAOTek Inc.
The product is available on https://gaotek.com/, as well as some leading e-commerce marketplaces.
GAOTek Inc. now offers one of the world's largest selections of advanced fiber optics instruments, fiber optic transceivers, telecommunication testers, electronic measurement instruments, video surveillance, general test and measurement equipment, civil engineering, mechanical engineering, chemical engineering and other engineering products to satisfy the needs of global technical professionals.
Serving customers from more than 50 countries, GAOTek is known for the high quality and best value of its products backed by a strong technical team that provides industry-leading support.
GAOTek Inc. is a member of GAO Group of Companies, headquartered in Toronto, Canada with a strong global presence. The GAO Group consists of GAO RFID Inc. (http://www.GAORFID.com), GAOTek Inc., and GAO Research Inc. (http://www.GAOResearch.com), all being leaders in their respective markets.