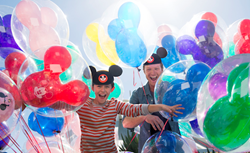 Learn about world destinations at Alpha's Travel Talks
WINCHESTER, Va. (PRWEB) March 28, 2018
"As the owner of Alpha Voyages, my background is a Special Education Pre-School teacher for 33 years. Therefore, first I am a teacher. My major reason for becoming a travel agent was to travel myself. I am a passionate world traveler. As I work with clients trying to decide where they should go, I realize how lost they are at times on knowing their options. What better way to assist my friends, then to develop a monthly travel forum called "Travel Talk" inviting the many destinations I work with to Winchester to present their travel specialty," said Mary June Williams, owner of Alpha Voyages Travel Agency.
Travel Talk began in January 2018. We have had Sandals Resort, Club Med and to celebrate St Patrick's Day, Celtic Tours. This April, Disney World Resort will be here.
From the Celtic Travel Talk - "Lots of information to consider as we plan our 2018/2019 next adventure," – B. Merriner, guest.
The magic is endless at Florida's Walt Disney World Resorts. Purchase Hopper passes for four theme parks. Come face to face with the beloved Disney characters. Dive into imaginatively theme Disney Water Parks. Learn from the Disney World Resort expert the best way to explore the parks for the ages of your children or for an adult only vacation.
On Disney cruises, it's all about the little extras that add up to a magical vacation. Enjoy Broadway-style musicals, themed deck parties, their private island paradise Disney Castaway Cay.
Perhaps the least known Disney product is Adventures by Disney. Want to go to Iceland or Montana or Italy, these land adventures are branded as Disney Difference #1. Created with families in mind. Imagine visiting the most amazing places on the planet without any of the stress and worry that normally accompanies family travel. Every destination has active and immersive adventures, including special activities for the Junior Adventures as well as time off for parents.
"Travel Talks help us focus on fine details for our clients. We can attend with our clients and listen to their questions to the expert," said Beth Drummonds, Inside Travel Sales, Alpha Voyages.
This year's Travel Talks upcoming calendar includes:
May - Princess Cruises "The Alaskan Experience"
June - Avanti "Individual Travel Itineraries"
July - Viking Cruises "River Cruises"
August - G Adventures "Back Packing 35 and under"
September - Princess Cruises "Caribbean and Europe"
October - "Sandals - Destination Weddings"
November - Globus "River Cruises and Independent Tours of Europe"
December - Royal Caribbean "Drivable Cruise Options"
January - Sandals "Honeymoons"
The forum is an open house from 5:30 – 7:30 with presentations beginning at 6:00. Enjoy a beverage. Eat some light snacks and add a destination to one's bucket list. Register today. Seating is limited. Questions – email mj(at)alphavoyages(dot)com or text 540.327.6599.
Alpha Voyages needs to meet with you in person to best support your travel experience. Appointments are available 7 days a week.
Alpha Voyages Travel Agency has been in business for 22 years in Winchester, Virginia. With seven independent travel agents who specialize in different world destinations, the agency is a preferred Sandals Agency. It's sister agency, Go Blue Ridge Travel promotes the Shenandoah Valley of Virginia and West Virginia.
Contact: Mary June Williams, Owner
Phone: 540-662-6279 opt 1
Email: mj(at)AlphaVoyages(dot)com