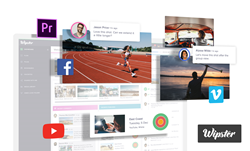 "At Xero, we've long understood the power of video in building a loyal and engaged audience. We're excited to use products like Wipster Flow and Pulse that make video collaboration effortless, and connect the creative and publishing teams to the greater impact of their work." -Patrick MacFie, Xero
PORTLAND, Ore. (PRWEB) March 28, 2018
To help companies pivot to a video-first content strategy, Wipster, a video collaboration and publishing platform, announces Flow and Pulse, collaborative post-production workflow and video analytics tools that allow teams to scale their video investment and improve engagement across marketing channels.
Video Content, Simplified
Many video platforms include basic review tools and most publishing platforms (Facebook, YouTube, Vimeo, etc.) include their own audience engagement metrics. Yet, these platforms still require contributors to self-manage their project workflow in separate spreadsheets, and force marketers to log into countless tools to interpret the results. Wipster is the only platform to bridge these gaps so that teams can efficiently collaborate on video revisions, store them in a shared media asset library, publish videos across a variety of tools, and easily understand the results—all in one place.
Patrick MacFie, global director of media for Xero, is a sought-after speaker on video marketing, and had early access to Wipster's Flow and Pulse tools. "At Xero, we've long understood the power of video in building a loyal and engaged audience," said MacFie. "We're excited to use products like Wipster Flow and Pulse that make video collaboration effortless, and connect the creative and publishing teams to the greater impact of their work."
Transparent Workflow From Start to Finish
Wipster Flow guides modern teams—often working from different locations—through what would otherwise be a complex video review process. Contributors simply annotate directly on videos, and projects automatically move into actionable stages (in review, approved, etc.) so that teams know where to focus.
In addition to in-app publishing tools, Wipster Pulse provides the industry's first comprehensive video HealthScore to visually surface the total audience impact of a video, eliminating the time-consuming task of gathering and interpreting analytics data across social media and video marketing channels.
In addition to internal marketing teams, creative agencies use Wipster to increase the volume of video content they can produce internally and externally for clients. "Being a content creation company, we live and breathe video. We also practice what we preach and all internal communications happen via video because it's the most engaging way to communicate," said Tim Moylan, COO of creative agency Shootsta. "We're excited about products like Wipster Flow and Pulse because they make it so much easier to manage multiple projects at once, push revisions out faster, quickly iterate based on audience impact—and most importantly—exceed our clients' expectations."
With the addition of Flow and Pulse, Wipster combines media storage, project management, collaboration, publishing, and analytics all in one platform, making it possible for companies of all sizes to embrace video as the cornerstone of their content strategy.
About Wipster
Wipster's new Flow and Pulse tools are available now to demo and purchase. To learn more about the announcement and to get started with a free trial, please visit wipster.io.