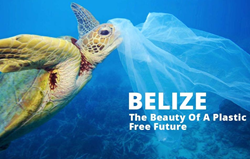 Belize has gained a global reputation for sustainable tourism
SAN IGNACIO, Belize (PRWEB) March 29, 2018
The Belize government's recent cabinet approval to phase out plastic shopping bags, plastic utensils and Styrofoam takeaway containers has won praise across Belize and throughout the little Caribbean country's tourism industry, according to The Lodge at Chaa Creek.
On March 20, 2018, the Belize government issued a media release announcing that plastic shopping bags and similar products are to be phased out by April 22, 2019.
"The phasing out of plastic shopping bags and Styrofoam and plastic food utensils, such as clamshells, flat plates and cups, is a necessary pollution control measure to protect the terrestrial and marine environment from harmful plastic contamination," the release stated.
Lucy Fleming, who with her husband Mick opened Belize's first eco-resort in 1981 at their farm at Chaa Creek, praised the decision as another positive move towards a sustainable future for Belize and the planet.
"All of us at Chaa Creek; owners, managers, naturalist guides and staff members, want to express our appreciation to the Belize government ministries and individuals involved in getting this far reaching, visionary proposal through cabinet," Ms Fleming said.
"Those of us working in eco-tourism have a deep appreciation of both the beauty and the fragility of Belize's famously diverse natural environment.
"We also understand that Belize's future lies in protecting our natural resources. From the inland rainforests to the Caribbean coast and the Belize Great Barrier Reef, Belize's natural resources are our greatest asset, and they must be protected for our children and their children's futures," she said.
Oceana, the world's largest ocean conservation and advocacy organisation, also praised the decision.
"This policy will once again place Belize among the world leaders in the safeguarding of our natural resources from the harmful effects of single use plastic and Styrofoam," Oceana vice-president Janelle Chanona said.
With a board of directors that includes actors Ted Danson and Sam Waterston, and numerous high-profile supporters such as James Cameron, Harrison Ford, Morgan Freeman, Mary Steenburgen, Pierce Brosnan, Jeff Goldblum, Kate Walsh, Barbra Streisand, Sting and other celebrities, Oceana has played an active role in protecting Belize's maritime resources, including the world's second largest reef system, the Belize Great Barrier Reef.
With The Lodge at Chaa Creek offering a number of all-inclusive Belize vacation packages that include stays at partner resorts on Belize's Caribbean coast, cayes and Belize Great Barrier Reef, and Chaa Creek Belize Expeditions conducting tours throughout the country, Chaa Creek staff and naturalist guides have been in a position to monitor the health of Belize's terrestrial and maritime environment for decades, Ms Fleming said.
"For years now we've had a birds eye view, if you will, of Belize's environment, from the inland jungles out to the Caribbean coast, cayes and reef. We've also seen the growing popularity of Belize as a travel destination, and are keenly aware of the impact that increased visitors will have on the country.
"Also, as Belize's economy grows, so does consumerism, which invariably leads to more waste being generated. As the government pointed out in their recent press release, plastic and Styrofoam now make up some nineteen percent of the volume in Belize's municipal waste system.
"Fortunately, the concepts of responsible travel and sustainable tourism have really taken hold in Belize, and there's now nationwide awareness of the need for environmental protection. It's being taught in schools and promoted though programs like the Eco-Kids free environmental education summer camp we run each year, and by initiatives such as the annual Walk for A Green Belize that in October 2017 saw 650 volunteers collect over five tons of roadside rubbish," Ms Fleming explained.
With manmade environmental disasters such as the Great Pacific Garbage Patch attracting global attention, more people are aware of the need to reduce unnecessary waste, she added.
"When you see floating patches of rubbish many times larger than the size of Belize, it really makes you stop and think. These are problems we humans have created, and we have the responsibility as well as the ability to fix them.
"The good news is that, if a small, developing country like Belize can make the effort to tackle these problems with decisive, common-sense measures, so can larger, better resourced countries.
"Belize has gained a global reputation for sustainable tourism, and if initiatives such as this phasing out of plastic bags encourage others to do the same, that's something everyone can be proud of," Ms Fleming said.
The Lodge at Chaa Creek is a multi-award winning eco resort set within a 400-acre private nature reserve along the banks of the Macal River in Belize. It was recognised by National Geographic with first place honours at the 2017 World Legacy Awards held in Berlin.