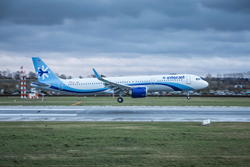 Mexico City, Mexico (PRWEB) March 28, 2018
Interjet Airlines announced today, new, nonstop service between Houston's George Bush International Airport (IAH) and El Bajío's Guanajuato International Airport (BJX) and new nonstop service between San Antonio International Airport (SAT) and El Bajío. These new flights will be effective June 22, 2018.
"El Bajío is experiencing and ongoing social and economic revitalization," said José Luis Garza, Interjet's Chief Executive Officer. "It has become a strong business and economic center and we're delighted to be able to offer travelers to and from this area, our unique brand of lower prices with free checked bags on select fares, more legroom between seats and great service that has been embraced everywhere we fly." he added.
Interjet flights to El Bajío from Houston and San Antonio will operate as follows:
HOUSTON – EL BAJÍO - HOUSTON
FL 4931 IAH/BJX DP 07:20 AR 09:40 FREQ Daily
FL 4930 BJX/IAH DP 18:40 AR 20:50 FREQ Daily
SAN ANTONIO – EL BAJÍO – SAN ANTONIO
FL 4691 SAT/BJX DP 13:45 AR 15:25 FREQ Mon., Tue., Wed., Fri., Sat.
FL 4691 SAT/BJX DP 14:55 AR 16:35 FREQ Thurs., Sun.
FL 4690 BJX/SAT DP 12:10 AR 13:50 FREQ Mon., Tue., Wed., Fri.,
FL 4690 BJX/SAT DP 11:05 AR 12:45 FREQ Thurs., Sat., Sun.
Roundtrip promotional fares from Houston, TX to El Bajío, Mexico start at $229.00, taxes included. Roundtrip promotional fares from San Antonio, TX to El Bajío, Mexico start at $259.00 including taxes.
For more information regarding Interjet's new service or to make a reservation, visit http://www.interjet.com or in the U.S. call (866) 285-9525
About Interjet
Interjet is an international airline based in Mexico City providing air service to 55 destinations in eight countries, including 35 cities in Mexico. Its international network includes service to ten U.S. markets: Chicago, Dallas/Ft. Worth, Houston, Las Vegas, Los Angeles, Miami, New York, Orlando/Sanford, San Antonio and San Francisco. Other international routes include Montreal, Toronto, and Vancouver, Canada; Havana, Santa Clara and Varadero, Cuba; Bogota, Colombia; Guatemala City, Guatemala; Lima, Peru; and San Jose, Costa Rica. The airline operates a fleet of 80 aircraft including three Airbus A320neos, 47 Airbus A320s, two Airbus A321neos, six Airbus A321s and 22 Superjet 100s.