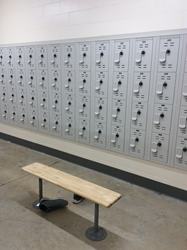 Scranton Products partitions and lockers were specifically chosen because they never need painting and offer superior resistance to dents, scratches, graffiti, corrosion, mildew and moisture." --John Saraceno, Project Manager, Springfield School District
SCRANTON, Pa. (PRWEB) March 29, 2018
Hamlin Middle School of Springfield, Oregon recently held the grand opening of its new $41 million facility featuring a modern, collaborative environment dedicated to technology learning. The two-story, 123,000 sq. ft. building offers the benefits of 38 teaching spaces, state-of-the art touch-screens, hands-on labs, electrochromic windows, and highly-durable HDPE lockers and restroom partitions from Scranton Products.
"This is the model for all the other area schools," says Brett Yancey, COO of the Springfield School District. "It was built to keep more than 700 6th, 7th, and 8th graders engaged and interested in a cutting-edge, eco-friendly building intended to last for decades."
According to John Saraceno, the school's project manager at the Springfield School District, the construction included 20 restrooms, which were designed to facilitate supervision, easy-cleaning and long-term durability. Scranton Product's Hiny Hiders® partitions were specifically chosen because they never need painting and offer superior resistance to dents, scratches, graffiti, corrosion, mildew and moisture.
Also important to the selection process were Scranton Products' Tufftec® lockers for student use and Duralife® lockers installed in the school's kitchens, staff, and break rooms. Duralife lockers feature a non-porous surface that is easy to clean and naturally resistant to bacteria, odors, mold and mildew. Tufftec lockers are especially designed to withstand the wear and tear of athletic, healthcare and recreational environments.
"We put the plastic lockers through rigorous tests and they passed with flying colors," Saraceno added. "They're also very quiet when opened and closed—they don't bang like metal lockers and resist dings and dents." Yancey agrees and says the school system is extremely pleased with the partitions and lockers, which he expects will serve students and staff very well and save on maintenance and repair.
To learn more about Scranton Products' Hiny Hiders® partitions, and Tufftec® and Duralife® lockers please visit http://www.scrantonproducts.com or call 800-445-5148.
About Scranton Products:
With more than 30 years of experience, Scranton Products provides "Innovative Solutions for a Better Future," with innovative, creative designs that create a lasting impression. The industry leader in plastic bathroom partitions and lockers, Scranton Products bathroom partitions and lockers are constructed from premium, American-made solid plastic for unmatched durability that stands up to dents, scratches, corrosion, graffiti and mildew. When you purchase Scranton Products, you are investing in peace of mind. With endless design options and an array of designer colors and textures, Scranton Products installs confidence and elegant style in every project.