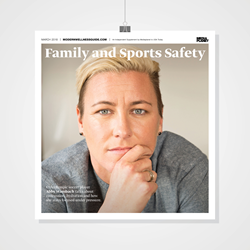 More than 3.5 million kids under age 14 receive medical treatment for sports-related injuries each year.
NEW YORK (PRWEB) March 28, 2018
Mediaplanet announces the launch of its first edition of "Family and Sports Safety" campaign. Injuries associated with participation in sports and recreational activities account for 21% of all traumatic brain injuries among children in the United States. More than 3.5 million kids under age 14 receive medical treatment for sports-related injuries each year. However, more than half of all sports injuries are preventable. This campaign is aimed to encourage parents, teachers and coaches to support and educate their active kids by highlighting the preventative solutions available to ensure their children's safety while playing sports. It will also serve as a guide to the most common types of injuries, the best ways to prevent those injuries, and the most resourceful way to treat those injuries if they do occur.
The print component of "Family and Sports Safety" is distributed within USA Today in Atlanta, Chicago, Dallas, Nashville, New York, North Central Florida markets, with a circulation of approximately 250,000 copies and an estimated readership of 750,000. The digital component is distributed nationally, through a vast social media strategy, and across a network of top news sites and online here.
This campaign was made possible with the support of the Centre for Neuro Skills, Cascade Maverik Lacrosse, SweetLeaf, Up2Us Sports, Northwestern Medicine.
About Mediaplanet
Mediaplanet specializes in the creation of content marketing campaigns covering a variety of industries. We tell meaningful stories that educate our audience and position our clients as solution providers. Our unique ability to pair the right leaders with the right readers, through the right platforms, has made Mediaplanet a global content marketing powerhouse. Our award-winning stories have won the hearts of countless readers while serving as a valuable platform for brands and their missions. Just call us storytellers with a purpose. Please visit http://www.mediaplanet.com for more on who we are and what we do.
Press Contact:
Marisa Tomsky
marisa.tomsky(at)mediaplanet(dot)com
(646) 922-1404