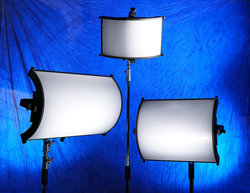 This year our focus is on the art of lighting, both on-set and inside your camera.
Gurnee, IL (PRWEB) March 29, 2018
Fotodiox Pro, creator and distributor of several lines of specialty solutions for videography, cinematography and photography, has announced that it will premier several never-before-seen items at the 2018 NAB Show. The products, which include the new FACTOR Radius LED area light, new bi-color models of the popular PopSpot ultra-compact Fresnel LED light, and the new ColorFlare flare effects adapter for E-mount and Micro Four-Thirds cameras, will be on display at booth C9511 at the Las Vegas Convention Center from April 9 to April 12, 2018.
"This year our focus is on the art of lighting, both on-set and inside your camera," said Kelvin Luo, CEO of Fotodiox Pro. "The new FACTOR Radius is an industry first with its wide 180° beam angle, designed for faster setups with fewer lights, immersive VR shooting, and wide-angle shooters. The PopSpot Fresnel LED light is back with more power, more lighting modifiers, and bi-color control in an ultra-compact design. We're also very excited to launch our ArtFX line of artistic lens adapters with the introduction of the ColorFlare adapter, which adds stylish and organic flare in-camera effects to modern and vintage lenses."
The FACTOR Radius LED light, which comes in 5 sizes, injects new life into the full FACTOR line with a breakthrough curved shape for an ultra-wide beam angle. It is ideal for permanent studio installations, greenscreen work, rapid-fire setups for news gathering, location-based multi-cam shooting, and more. The FACTOR Radius has bi-color and dimming adjustability, DMX and manual control, AC and battery options, and a custom hard shell case.
The PopSpot has returned with two new models, offering added versatility and power. The PopSpot Ultra 50 is an adjustable Fresnel light outputting 5,400 lux, and maintains the PopSpot's signature compact, soda can size. The PopSpot Ultra 100 offers 10,800 lux of output power with a slightly larger form factor, and comes with a full array of attachable lighting modifiers, like snoots, barndoors, or other ProFoto compatible accessories. Ideal for travel, confined shooting situations, and on-set practical lighting, the new PopSpot models offer bi-color control, adjustable dimming, and battery and AC options. All PopSpot models are available in one and three-light kits, with custom carrying cases.
The first in Fotodiox Pro's new ArtFX line of adapters, the ColorFlare makes it possible to add organic, controllable flare effects in-camera for vintage and modern lenses. Currently available for E-mount and Micro Four-Thirds cameras, the ColorFlare is partially transparent and comes with one of five ColorTint rings and silicone masks, which can be used to create custom analog flare effects under nearly any lighting conditions.
To learn more about the FACTOR line, the PopSpot line or the ColorFlare adapter, please visit http://www.fotodioxpro.com or booth C9511 at the 2018 NAB Show from April 9 to April 12, 2018.
About Fotodiox
Serving the photo and video markets since 2004, Fotodiox Pro is a leading manufacturer and distributor of high-quality, professional and affordable photography and videography accessories. Known for such products as the WonderPana wide-angle filter system, the Vizelex ND Throttle adapter series, the ever-expanding line of award-winning GoTough accessories for GoPro cameras, and the groundbreaking FlapJack LED Edgelights, Fotodiox Pro is also responsible for bringing the CamDolly Cinema System – the industry's first truly portable, modular dolly system for professional videography gear – to filmmakers in the United States. For more information about Fotodiox Pro, please visit http://www.fotodioxpro.com, http://www.youtube.com/user/FotodioxInc, http://www.facebook.com/Fotodiox and https://www.instagram.com/fotodioxpro/.