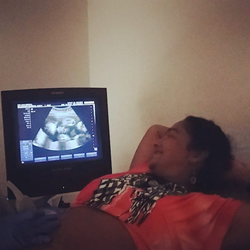 She put her life on the line for our country, now is time to PAY IT FORWARD back to her by supporting this cause. There's No Place Like HOME.
VIEQUES, Puerto Rico (PRWEB) March 29, 2018
A, (former U. S. ARMY) COMBAT Purple Heart & Disabled Veteran – Aurita Maldonado who was injured by a 200 pounds Improvised Explosive Device (IED) blast while on patrol during her tour in Wardak Province, Afghanistan in 2009 has been struggling with building a place to call home post Hurricane Maria. Serving in the U.S. ARMY from 2001-2010 and left with nerve damage in half of her body, she also suffers from other serious and chronic health conditions to include Post Traumatic Stress Disorder (PTSD). As of today, 6 months after Hurricane Maria struck the island of Puerto Rico and totally displaced Aurita, the 7 months pregnant Veteran who resides on the small island of Vieques, PR lives and faces a race against time to vacate temporary housing on (April 22, 2018) and in preparing for the arrival of her baby David due (May 28, 2018).
A Virginia-Puerto Rico based 501(c)(3) non-profit Home of Miracles and Embraces (H.O.M.E.) in collaboration with the American Veterans Ball (AVB), other organizations, and individual Goodwill Samaritans are dedicated in assisting this American HERO from homelessness. An official YouCaring fundraiser called the "Pay It Forward Housing Campaign", on behalf of Aurita Maldonado was created to help raise the level of awareness and funds required for this effort. The committed group have tasked themselves to raise a total of $43,000 in order to take two donated shipping containers and convert them into a permanent and ecological home solution that will be placed on Aurita's land for her and her family to live in. Their collective vision is to energize a total of 10,000 people to make a minimum micro donation of $4.30 towards this cause.
The group is also seeking for business and individual partners to join efforts in making this genuine and most random act of kindness a reality for her. Become an Ambassador! No American Veteran HERO should be homeless!
For more information on Aurita Maldonado's story or to support this American HERO, Contact Ozzy Ramos 540-288-3868 and visit: https://www.youcaring.com/auritamaldonaldo-1132086
Please view our original first encounter video with Aurita Maldonado here. https://www.facebook.com/ozzy.ramos.10/videos/1515480525187838/
SHARE: Please consider being a VOICE and ADVOCATE for Aurita by SHARING her story throughout your personal contacts and professional networks. We thank you in advance. #SupportAuritaMaldonado