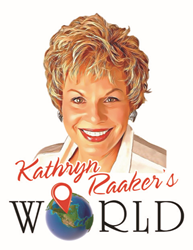 "WWNL has a great community reach and has the audience that listens to, and appreciates, the family-friendly content that Let's Just Talk provides.
CINCINNATI (PRWEB) March 29, 2018
Kathryn Raaker announced this week an expansion of her media world to include Pittsburgh's 50,000 watt channel, 1080 AM. WWNL, a Wilkins Radio Network Station that has been in broadcasting since 1990. This Wilkins Radio station serves the greater Pittsburgh, PA area, plus reaches into 19 counties in Pennsylvania, and three other states, West Virginia, Maryland and Ohio. It is one of the largest single radio stations for Raaker; she is syndicated on five other Wilkins stations and also on her home station in Cincinnati, Ohio WCVX 1160 AM as well as Fairfax Radio and W4CY and W4Vet both large internet stations.
"I am delighted to be part of this station," Raaker said. "WWNL has a great community reach and has the audience that listens to, and appreciates, the family-friendly content that Let's Just Talk provides. I know it will be a great partnership."
Over the last year, Raaker has continued to expand her media reach, adding Kathryn Raaker's World, (TV) a 30 minute show, which features a wide variety of topics and guests from all walks of life. Her Let's Just Talk Radio program has been doing the same thing for 15 years. This is a perfect platform for her type of magazine-interview commentary. She has a new app for radio called Let's Just Talk which can be downloaded on iPhones.
Raaker has made a deliberate attempt to reach the masses with her witty sense of humor and her lively discussions with guests. She has had a variety of programming in the past and continues to refine and expand on the ones that have been the most popular with her listeners and viewers.
"I believe that we all need to look at how we do things; the content we provide should be what the viewers and listeners want. I listen to them and have been able to adapt to the changes in our society, offering timely content. I think that is one of the features my audience appreciates," Raaker said.
Last year she launched the first of a mini-novella series, Elizabeth Bromwell, Chronicles of an Expat Spy. She is currently working on the second in the series. Adding "author" to her repertoire, rounds out her multi-faceted talents reaching nearly every type of media available.
Her Let's Just Talk TV program and The Chef You and I shows are on weekly on cable, and Network TV across the US and Canada. Recently she signed on with Dash Media on the MyTVto go.net which streams in 50 plus countries. She appears on Dash Media regular networks, with all of her programming. Kathryn is featured with her TV Programming on Spectrum, Comcast, Hulu, Roku as well as Kathryn Raaker You tube.
Just recently Raaker filmed several movie scenes which will be included in upcoming productions. She has appeared in three movies over the last three years and hopes to continue acting in the future. She also is the CEO of The Tri-State Connection, a Multi-Media and PR Company.
For more information about Kathryn Raaker, or to schedule an interview, contact her at:
Kathryn Raaker
The Tri-State Connection
513-616-6986
Kraaker123(at)gmail(dot)com