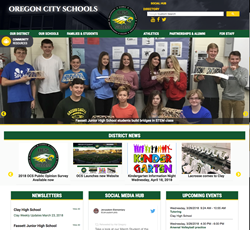 "Our tools build efficiency, allowing educators to focus on their number one priority: academic growth
OREGON, Ohio (PRWEB) March 31, 2018
This week's launch of Oregon City Schools' new website will increase parent engagement, and furthers eSchoolView's collaboration with school systems in Ohio.
The Toledo-area district, which serves nearly 3,700 students, signed a five-year contract with the Columbus-based company to complete the work. eSchoolView creates tailor-made ADA-compliant websites and develops compatible educational management software.
Dawn Schiavone, Director of Technology, said officials were impressed with eSchoolView's work with other northern Ohio districts, such as Sylvania, Beachwood and Shaker Heights.
"The product quality is outstanding and very easy to manage," Schiavone said. "It allows our district to create a hub of information and services that fits our needs seamlessly and cost-effectively."
Oregon has used the company's calendaring system for eight years. Its new web presence is complete with a responsive mobile site — another key selling point — and can be accessed from a phone or tablet in real time, eliminating an inefficient mobile experience and the district's need for duplicate data entries.
"We value the relationships we have with our parents and community," Schiavone said. "Our new site will strengthen those connections by providing current and easily accessible information, and will allow us to reach even more, no matter the device."
Oregon's website was built on a Content Management System (CMS) specifically developed for K-12 schools.
eSchoolView offers personalized training and support as part of all of its competitively priced contracts — an important element not always included by other providers. Key staff will be taught how to use the system who will train others in the district; support thereafter is unlimited and available by phone, email, virtual sessions and video.
"Our tools build efficiency, allowing educators to focus on their number one priority: academic growth," eSchoolView Executive Director Rob O'Leary said. "We work behind the scenes so they can build strong relationships with those they serve."
eSchoolView works with hundreds of districts and educational organizations across the country, from California to the Midwest and New York to Georgia. It has offices in Charlotte and central Arizona and been named to the Inc. 5000 list of fastest growing privately held companies in the U.S for four consecutive years.