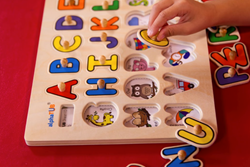 MUMBAI (PRWEB) March 28, 2018
The team behind alphaTUB designed the customizable pegboard with one goal: to make learning the alphabet simple. Now in week three of its Kickstarter campaign, over 125 parents have signed on to support alphaTUB while some have also pledged to donate alphaTUB to schools. Creator Navneet Kalia and his two daughters, who are the real inspiration behind alphaTUB, will be demonstrating the revolutionary learning tool on Kickstarter's live streaming platform at 1:00 pm EST on Tuesday, April 3rd.
On average, a typical three-year-old child knows around 100 words, but present-day alphabet pegboards often limit the child's exposure to only 26 words. With alphaTUB, there is no limit. alphaTUB is simple as it allows users to easily change the content in the pegboard. A user can insert any original or personalized TUB sheet with pictures into the alphaTUB Board for children to learn and develop new vocabulary words.
alphaTUB also comes with a free mobile app that allows parents and children to create new, personalized sheets. Using the alphaTUB mobile app, users can take pictures of various things associated with the letters, and the app will automatically create a content sheet ready for printing and playing. Users also have an option to download new content sheets.
alphaTUB marketplace is a community-led platform that offers opportunity for everyone to create, share or sell new content, like TUB sheets, with other users. Using the alphaTUB mobile app, parents can also keep track and share the learning progress of their child.
"When a baby is born, his or her connection with the universe requires communication, which is always some form of language. The foundation of any language is the alphabet. Alphabet learning must be simplified. We designed alphaTUB as an upgrade for static pegboards used for generations in the past," explained CEO and Founder Navneet Kalia.
According to Kalia, "alphaTUB is about un-boxing the creativity - it's about limitless, infinite knowledge and an unrestricted ability to think and learn. In simple words, alphaTUB is a bridge of alphabets between the child and universe. We want to transfer the power of alphabet learning into the hands of children. Parents and teachers can use the app to deliver personalized vocabulary and content while having the ability to track and monitor the learning progress of their kids."
The alphaTUB team is continuing to raise funds through their Kickstarter campaign and is currently offering a child-safe plastic version starting at $24 and a classic wooden model starting at $42. To learn more about the campaign, visit bit.ly/alphaTUBKS and to tune into Tuesday's live stream, visit here.
About alphaTUB Innovations
Founded in May 2016, alphaTUB is a company developing and producing children's learning products aimed at finding new ways for children to learn throughout their growing cycle.
After six years of extensive research, multiple patents and receiving the 2017 Edison Award for Innovation, the company is excited to introduce dynamic and personalized learning content to children. alphaTUB was a featured startup at Web Summit in Portugal, Winner of Red Herring Asia Awards in Manila, Winner of Red Herring Global Awards in Los Angeles, and Jury Finalist for CII Industrial Innovation Awards in 2016 & 2017 in India. alphaTUB is also a Recognized Startup by Govt. of India. To learn more about alphaTUB, visit alphatub.com.