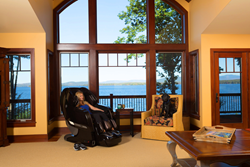 We look forward to furthering our partnership with Mattress Firm and working with their dedicated team to help improve the wellness of customers nationwide.
SEABROOK, N.H. (PRWEB) March 29, 2018
Infinity Massage Chairs announced this week a two year extension as the exclusive massage chair supplier for Furniture Firm by Mattress Firm, the largest mattress retailer in the country and a leader in massage chair sales.
"It's already been an eventful year watching our relationship and success with Mattress Firm unfold, so we're thrilled to be continuing as their exclusive massage chair supplier," said Michael Milone, Infinity's Director of Business Development. "We look forward to furthering our partnership with Mattress Firm and working with their dedicated team to help improve the wellness of customers nationwide."
Mattress Firm currently offers four of Infinity's top-selling models: the Imperial, Presidential, Celebrity, and Smart Chair. In fact, the Imperial, Presidential, and Celebrity were designed exclusively for the furniture retailer to provide customers with a range of options and feature sets. The retailer exhibits these chairs at its special events held throughout the U.S.
"We're excited to partner with Infinity Massage Chairs and continue providing our consumers the best in class for in home massage therapy," Joe Sabino, Mattress Firm's Vice President of Multi-Channel Sales, said. "Infinity and Mattress Firm have a shared goal of educating today's consumer on how they can better rest and relax to live a more stress-free lifestyle. We work together to offer innovative products and exceptional service, paired with a national reach that allows us to deliver to all 50 states. It's our shared passion and purpose that makes this a very natural partnership."
According to Milone, the exclusive partnership benefits customers when it comes to development of new massage chairs, a couple of which are already in the works. "We're able to work closely with Mattress Firm to develop new products that cater to the needs and lifestyles of all types of people," he explained. "Infinity offers the latest in massage chair technology, and Mattress Firm provides the insight necessary to hone our products based on customers' preferences."
Customers can experience Infinity Massage Chairs at the countless special events that Mattress Firm participates in nationwide.
About Furniture Firm by Mattress Firm
Furniture Firm by Mattress Firm specializes in high-quality home furnishings from the top brands in the industry. The company has been strictly an events and expositions retailer since its establishment in 2011. With incredible buying power, Furniture Firm is able to pass the savings of reduced overhead directly to its customers.
About Infinity Massage Chairs
Infinity Massage Chairs is the fastest-growing massage chair brand in North America and is headquartered in a 45,000-square-foot office and distribution center in Seabrook, N.H.. Over the years, the manufacturer has added significantly to its product line and continues to be recognized as a leader among the industry. Infinity ensures attentive sales support from the beginning and guarantees all of its massage chairs with a comprehensive warranty and lifetime technical support. The company's mission is to deliver innovative solutions to unlimit wellness for all lifestyles.
To learn more about Infinity Massage Chairs, call 603-910-5000 or visit Infinity Massage Chairs.