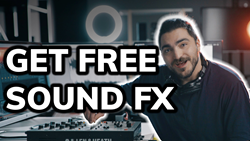 "Sound effects have been one of the most requested effects from our users," said Cole Vineyard, Senior Product Development Director. "We made this sound library for all kinds of creators, whether they make short films or vlog on YouTube."
VANCOUVER, British Columbia (PRWEB) March 29, 2018
The sounds a viewer hears contribute a lot to their overall experience of a film or a video. In order to help video creators find quality sound effects, Filmora Video Editor, an easy-to-use and powerful video editing software, has launched a sound effects library with a huge variety of free sounds. All the sound effects are royalty free and can be used in personal and professional productions.
Search and download free sound effects here: https://filmora-es.wondershare.com/sound-effects.html
All of the sound effects in this library were created by the Filmora team. In order to meet the needs of different creators, the team has included very diverse selection of sounds such as rain, dogs, dinosaurs, gunshots, cars, city background noises, and fart sounds. The library is easy to browse and search through so creators will have no trouble finding the sounds they are looking for.
"Sound effects have been one of the most requested effects from our users," said Cole Vineyard, Senior Product Development Director. "We made this sound library for all kinds of creators, whether they make short films or vlog on YouTube."
With the launch of this sound effects library, Filmora has further expanded upon the already massive selection of resources provided to video creators through the Filmora Effects Store. The Effects Store supplies creators with unique and customizable video effects such as titles, openers, motion graphics, overlays, filters, and music. Most of the effects in the Effects Store are created in-house by Filmora's motion animators and designers.
"Sound effects are something that we have always wanted to be able to provide," asserts Vineyard. "Our users now can now access both visual effects and sound effects, which means they won't have to look anywhere else for resources to create complete video projects."
About Filmora: Filmora is committed to taking storytelling to the next level by providing a suite of video editing programs and resources for creators of all skill levels. Rebranded and relaunched by Wondershare Technology Co., Ltd in 2014, Filmora has over 50 million happy users around the world. Filmora's product lineup includes: Filmora Video Editor, Filmora Scrn, Effects Store, FilmoraGo, Vlogit and filmora.io. Information about Filmora can be found here: http://filmora.wondershare.com