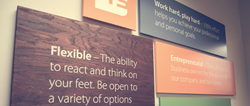 Our vision was to create a unique, non-traditional CPA firm on Seattle's Eastside to service the entire Puget Sound Area.
REDMOND, Wash. (PRWEB) March 29, 2018
Accounting firm Falco Sult, founded by CPAs Chris Falco and Bruce Sult, is celebrating its twenty-seventh anniversary. "This is a pretty amazing milestone. Not many business partnerships last this long," said Sult.
The company started in 1991 with the two partners, a part-time accountant and an admin employee. Today, Falco Sult has grown to twenty-five people. Since its inception, Falco Sult has been motivated by solving problems and providing value-added services. The company combines a personal approach with unmatched expertise that takes the stress out of finances and positively impacts the client's bottom line.
"We really tried to develop a niche for ourselves in the market of working with the privately-held business," noted Falco. "Our vision was to create a unique, non-traditional CPA firm on Seattle's Eastside to service the entire Puget Sound Area. We were determined to not be accused of being a bunch of accountants, and instead focus on providing personalized financial services and building value for our clients."
For businesses, Falco Sult provides strategic business planning and consulting; business acquisitions/mergers and acquisition services; succession planning; tax planning and preparation; accounting and auditing/assurance services; and business valuation and forensic accounting for businesses throughout their entire business life cycle. For business owners and individuals, the company provides strategic planning; tax planning and preparation; and estate planning.
In addition to providing personalized financial services, Falco Sult is passionate about helping others. It proudly supports Hopelink, which serves homeless and low-income families, children, seniors and people with disabilities; Seattle Humane, a private, non-profit animal welfare organization; OneRedmond, a nationally renowned economic development innovator, recognized for providing an ecosystem that promotes a world-class business-friendly environment; and Special Bunny Rescue, an all-volunteer, special needs rabbit rescue, rehabilitation and adoption shelter.
About Falco Sult
Falco Sult looks at a business' needs from a broad perspective by knowing where the company is in the business life cycle at all times and designing a plan accordingly. Falco Sult is a West Coast accounting firm serving clients nationwide. For more information, please call (425) 883-3111, or visit http://www.falcosult.com. The office is located at 16150 NE 85th Street, Suite 203, Redmond, WA 98052.
About the NALA™
The NALA offers small and medium-sized businesses effective ways to reach customers through new media. As a single-agency source, the NALA helps businesses flourish in their local community. The NALA's mission is to promote a business' relevant and newsworthy events and achievements, both online and through traditional media. The information and content in this article are not in conjunction with the views of the NALA. For media inquiries, please call 805.650.6121, ext. 361.