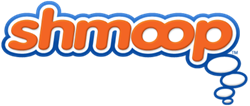 We're huge fans of Ready Player One, and bringing the book to the big screen will expose new audiences to a stellar novel.
MOUNTAIN VIEW, Calif. (PRWEB) March 29, 2018
The theatrical release of Ready Player One is sure to be a hit, but can it outshine Ernest Cline's original novel? Shmoop (http://www.shmoop.com), a major player in the digital publishing world known for its award-winning test prep and certified online courses, is one player ready to find out.
Shmoop's Ready Player One Learning Guide has more to offer than pun-riddled jokes. The detailed literature guide helps readers delve into Cline's best-selling novel. It's like having star power in Mario Kart or the Balmung Sword in Final Fantasy XV: readers can level-up their knowledge of the story's plot and themes before paying an extravagant amount for movie theater popcorn that—fun fact—is sometimes stored in large trash bags at the end of the day.
Shmoop President and CEO Ellen Siminoff has no known opinion on trash bag popcorn, but she did offer up this sound bite: "Book-to-movie adaptations provide a great excuse to revisit awesome books. We're huge fans of Ready Player One, and bringing the book to the big screen will expose new audiences to a stellar novel."
Shmoop's guide provides a comprehensive summary, in-depth analysis of the characters and their motivations, a close reading of quotes of particular importance, and extensive coverage of the many themes at play. Plus, the guide is as chock-full of information as the book is chock-full of references to '80s culture. Shmoop can help readers navigate the maze of allusions and dig into the protagonist's trials and tribulations on a whole new level. (Level of thinking, that is. Not video game levels.)
The film, directed by Steven Spielberg and starring Tye Sheridan, Olivia Cooke, and that one guy from Bloodline, is sure to thrill audiences, but whether or not it'll capture the magic of the book remains to be seen. Shmoop's advice? Reread the novel, then grab a seat at the local theater and compare to your heart's content. And maybe bring some popcorn from home.
About Shmoop
Shmoop offers hundreds of thousands of pages of original content. Their Online Courses, Test Prep, Teaching Guides, Learning Guides, and interactive Study Tools are written by teachers and experts and balance a teen-friendly, approachable style with academically rigorous concepts. Shmoop sees 16 million unique visitors a month across desktop and mobile. The company has won numerous awards from EdTech Digest, Tech & Learning, and the Association of Educational Publishers. Launched in 2008, Shmoop makes the magic happen from a labradoodle-patrolled office in Mountain View, California.