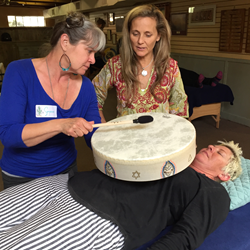 When the Shaman wants to journey, they need to shift to a different state of consciousness and the drum helps them do that.
SEDONA, Ariz. (PRWEB) March 29, 2018
Shamangelic Healing of Sedona, Arizona is now offering the Remo Standard 16" Buffalo Drum for sale and use in its Healing Tools & Modalities course that is offered annually in the spring and fall. Inspired by indigenous cultures of the Americas, the synthetic drum is manufactured with Remo's Fiberskyn® drumheads and patented Acousticon® drum shells for enhanced durability in any environment. It is one of the most popular drums chosen today by Shamanic practitioners due to its lower bass sound and consistent tonal quality.
"In Shamanism, the drum is used for two basic purposes: to shift your consciousness or to move energy," said Anahata Ananda, founder of Shamangelic Healing. "When the Shaman wants to journey, they need to shift to a different state and the drum helps them do that."
The Remo Buffalo drum is 3.5" deep and equipped with a rope handle and single mallet. It produces the same tonal characteristics found on traditional wood shell drums and features excellent projection and enhanced, low-pitched fundamentals regardless of weather conditions. Since the synthetic material is not affected by humidity or air temperature, it is an excellent choice for drum circles, sweat lodges, healing sessions, ritual and ceremony. It can even be played in the rain and retain its original tone.
"When doing healing work, the synthetic lighter-weight hand drum is ideal because it allows the practitioner to easily move around the client directing sound and moving energy toward or away from different areas of the body," said Anahata.
According to Project Resiliency, research has shown that drumming has many therapeutic benefits. It accelerates physical healing and boosts the immune system. It reduces tension, anxiety and stress, helps control chronic pain, and can release negative feelings and emotional trauma. It induces deep relaxation, lowers blood pressure and produces feelings of well-being.
"The drumbeat resonates with the heartbeat of Mother Earth," said Anahata. "It helps open and heal the heart, can break up emotional density and can be used near the feet to ground and stabilize one's energy." Ancient civilizations used drumming to promote community connectedness and a sense of being in tune with the natural rhythms of life.
The Shamangelic Healing Center offers a Healing Tools & Modalities Course twice a year to train people of all levels in how to use the drum as an instrument for vibrational sound healing. It also explores the use of wind chimes, tuning forks, crystal bowls, essential oils and other healing tools. The next course is scheduled for October 2018.
Anahata Ananda has trained extensively with gifted shamans, energy healers and spiritual teachers from around the world to artfully integrate the fields of spirituality, energy healing, self-empowerment and shamanic teachings. Her client-base spans the globe with individuals from all walks of life who are seeking to heal and awaken to their fullest potential.
Anahata offers a variety of Shamangelic Healing services year-round in Sedona, Arizona including private sessions, sacred land journeys and training courses that incorporate Shamanic teachings and other energy healing modalities. She also offers Tailored Retreats for individuals, couples and small groups that can include a combination of offerings based on various needs and areas of interest.
Shamangelic Healing is a premier center for Shamanic healing and spiritual awakening in Sedona. It is nestled beneath Thunder Mountain with breathtaking views and within walking distance to a medicine wheel and healing vortexes, making it the perfect setting for healing and expansion.
For detailed descriptions and a calendar of all training courses and spiritual awakening services offered by Anahata visit http://www.shamangelichealing.com/