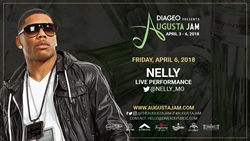 Augusta Jam and Diageo are Celebrating Golf Through Music, Culture and World Class Cocktails. Tickets are available now at www.augustajam.com
AUGUSTA, Ga. (PRWEB) March 29, 2018
The 2nd annual Augusta Jam celebration returns to the first major championship of the year to celebrate some of the biggest athletes in the world. Augusta Jam will be held at the Country Club Dance Hall & Saloon, where VIP's, golf enthusiasts and guests will enjoy specialty cocktails provided by Tanqueray No. TEN, Tequila Don Julio, CÎROC Vodka and Crown Royal throughout the evening. This year Augusta Jam is proud to feature unforgettable performances by some of the biggest names in music including the ultimate DJ and party starter, Lil' Jon and hip-hop sensation, Nelly.
The DIAGEO Mansion, a private, invite-only hospitality house, will open doors on Thursday, 4/5 bringing diversity, culture and music to the biggest weekend in golf. In partnership with PDG Global, this luxury hospitality house will feature special DJ sets, signature cocktails and food pairings and important 'cocktails and conversation' panels discussing the importance of growing the game of golf and supporting the local community.
Tanqueray will feature specialty Gin & Juice cocktails, including The Green Jacket and Tanqueray on The Tee inspired by the first major golf tournament of the year. Tanqueray has been known to celebrate and support creativity, innovation and craft across all forms of artistry. For the first major championship of the year and one of the biggest moments in sports, it was a natural extension for Tanqueray to the celebrate this legendary moment. Great moments deserve great spirits and we are honored to raise a signature cocktail to all the athletes playing in this year's tournament. Recipes are below.
The Green Jacket
1.25 oz. Tanqueray No. TEN
3 oz. Fresh Pressed Green Juice (Kale, Spinach, Apple & Lemon)
Cucumber
Mint Leaves
Preparation: Blend greens (kale and spinach), apple and lemon together to create pressed juice. Add Tanqueray No. TEN and stir over ice. Garnish with a cucumber slices, lime and mint sprig.
Garnish: Cucumber slices and mint sprig
Tanqueray on The Tee
1.25 oz. Tanqueray No. TEN
½ Teaspoon Orange Blossom Water
4 oz. Fever-Tree Naturally Light Tonic Water
Orange Twist
Rosemary Sprig
Preparation: Pour Tanqueray No. TEN and orange blossom water over fresh ice. Top with Fever-Tree Naturally Light Tonic Water and gently stir.
Garnish: Lime Wheel, orange peel twist and sprig of rosemary
Tickets are now available for purchase at http://www.AugustaJam.com. For updated information on Augusta Jam, please visit the official website or follow the conversation on social: Facebook | @AugustaJam Twitter & Instagram | @TheAugustaJam
ABOUT AUGUSTA JAM
Augusta Jam is a celebratory musical event owned and operated by PGD Global and held in the city of Augusta Georgia during the popular Masters Golf Tournament in support of the local Augusta community and part of PGD Global's mission to grow the game of golf through music, diversity and celebration. Augusta Jam merges the musical world of country, rock and hip hop music, proudly driven to unite cultures and celebrate diversity through music and golf. For more information and social media links, please visit http://www.AugustaJam.com and Facebook, Twitter & Instagram | @TheAugustaJam
ABOUT PGD GLOBAL
Play Golf Designs, Inc. (PGD Global) is a golf marketing & event company, directing and participating in luxury events for some of the world's most legendary athletes, entertainers, charitable organizations and Fortune 500 companies including NBA Coach Mike Woodson, NBA Icon Julius "Dr.J" Erving, R&B Legend Jeffrey Osborne, Comedian Chris Tucker, Sports Personality Ahmad Rashad, Viacom, The Broadcasters Foundation of America and MGM Resorts International. PGD fuses pop culture and entertainment to create the most unique, innovative golf experiences. PGD Global focuses on celebrating diversity, inclusion for women and introducing the golf world to the latest social and fashion trends. For more information, please visit http://www.pgdglobal.com Tweet or Instagram @PGDGlobal or Facebook http://www.facebook.com/PGDGlobal
ABOUT CITY OF AUGUSTA, GEORGIA
Augusta, Georgia is known as the Golf Capitol of the World and is rapidly becoming the Cyber Capitol of the South. The home of golf's most prestigious tournament and course is also proud to be home of the U.S. Army Cyber Command at Fort Gordon. Augusta is Georgia's second largest metropolitan area and borders the Savannah River which offers recreational activities and unique downtown experiences for visitors and its nearly 250,000 residents. Augustans manufacture almost 90 percent of the world's low speed vehicles and live in the backyard of America's nuclear renaissance. Augusta has robust, public K-12 education including schools that consistently achieve national recognition for excellence in delivering quality education.
ABOUT THE NEW COUNTRY CLUB DANCE HALL & SALOON
The Country Club Dance Hall & Saloon opened on Saint Patrick's Day 2006 and in a short time set the standard for entertainment in Augusta. In fact, The Country Club has brought more national Country Stars to Augusta than any other club in recent memory. With its friendly and professional staff, state-of-the-art sound and light system and lots of space to party, The Country Club rises above and beyond the expectations of "just another nightclub." The Country Club's dedicated fans voted it "Metro's Best Nightclub!" three years in a row and named it "Best Live Music Venue." Those very fans are the reason The Country Club has become the No. 1 place to party in the CSRA.
To help guests enjoy The Country Club lifestyle, free line dancing lessons are taught most Friday and Saturday's from 7-9 p.m. on the CSRA's biggest and best dance floor. The Country Club is open Friday and Saturday from 7 p.m. until 2 a.m. and has special events at other times of the week. For more information, visit their website: AugustaJam.com
EVENT CONTACTS
Nisha Sadekar, Event Producer 310.926.4075
Shana Booker, Event Director 215.287.3982
MEDIA CONTACT
Allie Bostwick, Hunter PR: abostwick(at)hunterpr(dot)com