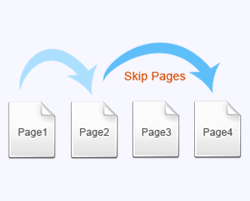 SAN JOSE, Calif. (PRWEB) March 29, 2018
How can online surveys engage audiences belonging to diverse demographics while still being concise and relevant to each segment? Whether it's conducting online market research, gathering customer feedback on a product or service, or asking attendees of an event on the speaker or topic they would be interested in, creating a single, concise, and relevant survey is challenging – and that is where "Skip Logic" comes in.
Here's an example:
A company ACME needs feedback on their grooming products. They aim to survey a target audience of any gender but between the age of 25 and 55. The survey requires respondents belonging to this age group to be presented with common questions on grooming, and, based on their gender, take them to pages with specific questions on the grooming products they use. After completing the survey, they should be redirected to the company's website. Conversely, respondents that do not fall into the specified age group should be shown a message informing them that the survey is open only for the age group of 25-55.
In the example above, skip logic allows users to create a single survey and present each respondent the questions that are relevant to them.
Applying skip logic to a survey directly affects the survey-taking experience. It maintains respondents' focus on the survey, saves time, prevents redundancy, increases the survey's response rate, and helps to gather the correct inputs needed to make data-driven decisions.
Skip logic is set up using "rules" that contain conditions based on which the survey presents the relevant questions to respondents. With SurveyMethods' brand new skip logic module, users can now add rules with single or multiple conditions, or a hierarchy of conditions based on answers to questions on previous pages as well as the page they are currently on, custom field values, or quotas. Based on the conditions specified, there are a number of actions that the survey can now perform – direct respondents to relevant sections of the survey, to another survey or website, display a customized message, screen respondents based on panel or quota rules, or end the survey.
For detailed information, read https://app.surveymethods.com/t-help/set-up-page-logic.htm.
About SurveyMethods
SurveyMethods is much more than a survey tool. Their power toolset includes easy-to-use Online Survey Software, Polls, Event Registration & Management Software, Email Newsletters, API & Integrations, and powerful Data Analysis tools. What sets SurveyMethods apart are its intuitive and easy-to-use tools. SurveyMethods is used by the largest Fortune 500 companies, government organizations, and also small businesses and individuals. For more information, visit https://surveymethods.com/.