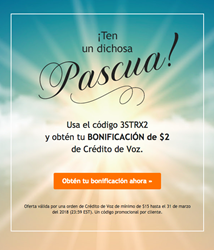 Generous Easter offer launched by LlamaElSalvador.com for Salvadorans worldwide
ATLANTA (PRWEB) March 29, 2018
On LlamaElSalvador.com, this Easter comes bearing gifts both for Salvadoran expats and their family and friends back home. Customers who place an order above $15 between March 29 - 31 automatically get $2 bonus, so they can call more friends on Easter, to catch up and find out what's new back home. All they have to do is to use the coupon code 3STRX2.
Salvadorans worldwide can also win free Voice Credit, if they join the contest running on LlamaElSalvador Facebook page. They just need to share one thing they would love to do this Easter. The contest is open until March 29 and the winner is awarded $10 Voice Credit for international calls.
Using the Voice Credit service LlamaElSalvador.com offers, customers can call anywhere in the world in two different ways:

If they use an old school mobile phone, landline or payphone, they can do that by choosing the access number that is closest to their location.
If they use a smartphone, they can call through KeepCalling smartphone app, available for iOS and Android.
Besides Voice Credit, LlamaElSalvador.com also offers Mobile Recharges, a service that helps customers top up phones anywhere in the world. The process is fast and secure and the credit reaches its destination instantly. The operators available for top ups to El Salvador are: Tigo, Digicel, Movistar, Claro.
What differentiates LlamaElSalvador.com from other services are the low prices offered, the frequent promotions, and the reliable services. What makes LlamaElSalvador.com even more attractive and trustworthy are the comprehensive help center and the 24/7 customer service, available through email and callback in both English and Spanish.
LlamaElSalvador.com guarantees 100% transaction security and satisfaction. All major payment methods are accepted: Visa, MasterCard, American Express, Discover and PayPal. Moreover, payment is available in several currencies: US, Australian or Canadian Dollars, plus British Pounds and Euros. The payment security system is known as very strong.
LlamaElSalvador.com runs a policy focused on integrating superior customer service, while maintaining the highest standards of technology at affordable rates. That is why LlamaElSalvador.com is the best solution for international calling and texting.
About LlamaElSalvador.com:
LlamaElSalvador.com is a website dedicated to Salvadorans living abroad. The platform is powered by KeepCalling, a global telecommunications company registered in 2002 in USA. Presently, KeepCalling provides its services to hundreds of thousands of consumers , with a focus on customer satisfaction. KeepCalling was listed by Inc 5000 as one of the fastest growing companies in the USA for 5 consecutive years.