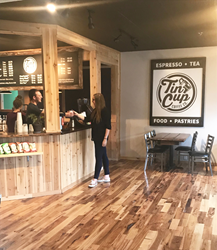 Great coffee and great breakfast!
NASHVILLE, Tenn. (PRWEB) March 30, 2018
Tin Cup Coffee announces the opening of its second location. The new café is located in Madison, TN, just a few miles northeast of the original storefront. It will share a space with Horton Group, a web, mobile and marketing agency in Nashville, TN founded by Ned Horton, owner of Tin Cup Coffee. The decision to open a second location for the local craft coffee shop came after five years of consistent growth and a growing demand for specialty coffee in Madison, TN.
Tin Cup Coffee's new Madison location will feature traditional coffee and espresso-based drinks as well as an assortment of "grab 'n go" beverages and lunches. Lunch options will be prepared by the culinary staff stationed at the downtown location, who have helped Tin Cup Coffee build its reputation as a Nashville favorite. The new café hopes to carry on the tradition of serving as a reliable resource for local workers and as an authentic, consistent favorite of Nashville area coffee enthusiasts. Darren Reynolds, Tin Cup Coffee General Manager, spoke about the café as "an extension of our downtown location, which is a service-oriented café whose quality matches its approachability."
Tin Cup Coffee's Madison café, located at 600 Medical Park Drive Madison, TN 37115, will be open on weekdays from 8:00 a.m. to 3:00 p.m. The location will include a large, free parking lot and feature ample seating, free wifi, and close proximity to central Madison.
Tin Cup Coffee is a Nashville-based café and restaurant featuring traditional coffee and espresso-based drinks and carefully crafted food. The company was founded five years ago by Ned Horton, owner of Horton Group, as a way to serve his employees high-quality coffee and pastries. Local demand for coffee soon grew, and Tin Cup Coffee has now become a staple of downtown Nashville, serving over 100 orders of coffee and food each day. The café operates out of the The Horton Building, which hosts weddings and other special events during the weekend and occasional weekday nights. Tin Cup Coffee's downtown location is open 7:00 a.m. to 5:00 p.m. Monday through Friday and 8:00 a.m. to 1:00 p.m. on Saturday and Sunday and is located at 138 Rosa L. Parks Blvd. Nashville, TN 37203.
For more information about Tin Cup Coffee's Madison location, reach out by email to info@tincup.coffee. Updates about the new location will also be shared on the café's Facebook and Instagram accounts.