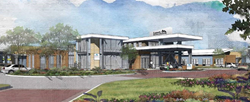 "We firmly believe that patients thrive exponentially when their environment and their care far exceed their expectations."
DALLAS (PRWEB) March 30, 2018
Everest Rehabilitation Hospitals, LLC, today announced the plans to construct its fourth physical rehabilitation hospital in the ever-growing Northwest Arkansas region. . . home to Walmart, J.B. Hunt and Tyson.
Everest's modern comprehensive medical rehabilitation hospital will be constructed on 4.96 acres, just south of Bentonville, Arkansas. The hospital site is only one block east of Interstate 49 at the intersection of S. Dixieland Rd and S. Pleasant Crossing Blvd in Rogers, Arkansas. The construction is planned for completion in April of 2019. Among the amenities, the approximate 40,000 square foot hospital includes numerous uncommon details and 36 private patient bedrooms and baths designed as if you were in a luxury hotel versus a hospital. All of Everest Rehabilitation Hospitals are identical and pre-designed for the expansion of an additional 18 private bedrooms as the market dictates. The hospital also includes spacious, state-of-the-art equipped inpatient and outpatient gyms, an outdoor mobility courtyard for therapeutic use, aqua therapy, a fully furnished training apartment with kitchen and bath, several family gathering areas, an open dining hall, in-house dialysis and an in-house pharmacy. The hospital will serve patients recovering from injuries and illness or living with disabilities and chronic medical conditions.
Everest's $23 million-dollar rehabilitation hospital project will create approximately 140 direct jobs and provide for an $8 million-dollar a year payroll to the community. Everest Rehabilitation Hospital will feature a comprehensive and interdisciplinary physician-led team of rehabilitation therapists focused on increasing patient strength and endurance and improving quality of life in a modern, naturally lit setting. "We are extremely excited to be a part of the NWA community. We firmly believe that patients thrive exponentially when their environment and their care far exceed their expectations. Our enormous level of care in our acute rehabilitation hospital setting cannot be provided at other levels of care such as skilled nursing facilities or nursing homes," Jay Quintana, Everest Rehabilitation's CEO said. "We provide one to one therapy, five to seven days a week, daily medical visits by rehab physicians and a strong nurse patient ratio that contributes to the optimal outcomes and the highest quality of care."
Everest Rehabilitation Hospital's therapy programs are led by a physician specifically trained in medical rehabilitation and provide for around the clock registered nursing care to patients overcoming a stroke, brain injury, neurological deficits, orthopedic conditions, pulmonary disease, spinal cord injury, amputations and other medically complex conditions.
Everest Rehabilitation Hospitals, LLC is based in Dallas, Texas
http://www.everestrehab.com
Jay Quintana, CEO
Jquintana(at)everestrehab.com
469-713-1145