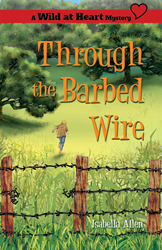 I want to teach kids that they can do amazing things, regardless of their circumstances. --Isabella Allen, author of Through the Barbed Wire
DALLAS (PRWEB) April 03, 2018
Brown Books Publishing Group is thrilled to announce the release of Through the Barbed Wire, the debut novel by Isabella Allen on April 3, 2018.
Imagine growing up on a sprawling ranch in Texas with the animals as your most trusted friends. For 19-year-old author Isabella Allen, this is the full picture of her unconventional childhood. With an upbringing similar to that of her protagonist, she had the opportunity to let curiosity reign and fully experience her natural surroundings. From her outdoor adventures, she cultivated similar stories to share.
Through the Barbed Wire, the first book in the Wild at Heart Mystery series by Isabella, takes readers on a journey into the world of young, adventurous Isla across the Texas ranch where she lives with her father. Although she feels more in connection with nature than with others, Isla forms a friendship with her new neighbor Cash, and together, they team up to solve the mystery of the unexplained fires that begin to break out on the ranch.
"When I was 8 years old, I was very specific about what books I wanted to read. I would make up a book in my head and scour library after library looking for it. I never found anything close to what I was looking for. Through the Barbed Wire was one of those books that I looked for, but I couldn't find."
Using her writing talent as an outlet while overcoming disabilities in her own life, she has ultimately created something beautiful despite her personal struggles. With an entrepreneurial spirit, she's now using her gift to inspire other young women.
"Your trials in life don't define you. We all struggle with something. I want to teach kids that they can do amazing things, regardless of their circumstances. I also want to teach readers not to judge someone based on the way they appear."
For more information on the exciting adventures in Through the Barbed Wire, as well as Isabella Allen's writing life, visit http://www.wildatheartmysteries.com.
About Brown Books Publishing Group (BBPG)
Founded in 1994 as an Entrepreneurial Publisher for Entrepreneurial Authors®, Brown Books Publishing Group was established to fill a need in the publishing world by allowing authors to have a voice in the publishing process while retaining the rights to their intellectual property. Applying this innovative Relationship Publishing™ model, Brown Books has cultivated a prestigious stable of authors, from New York Times bestsellers to Pulitzer Prize winners and more. Boasting hundreds of high-quality books across genres, Brown Books is a fiercely independent publisher that encourages author empowerment. In 1994, Brown Books ushered in A New Era in Publishing™, and more than two decades later, continues to be a successful innovative leader in the publishing industry. For more information, please visit http://www.BrownBooks.com.
About The Agency at Brown Books (ABB)
As a sister company of Brown Books Publishing Group, The Agency at Brown Books is backed by more than 20 years of publishing excellence, leveraged in the first full-service public relations, marketing, branding and distribution provider within a publishing house. The Agency provides high-level public relations, marketing and distribution services for not only Brown Books authors, but also non-affiliated authors, all within the same house. For more information, please visit http://www.TheAgencyatBB.com.