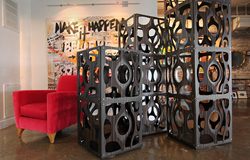 We couldn't be more excited to launch this product to interior designers and architects
LITITZ, Pa. (PRWEB) March 29, 2018
ATOMIC, a creative company providing rental solutions, set construction, design and production services for the live event industry, introduces a new modular product for a new market, the SuperLever Premium Finish product line is designed for high end-consumer facing installations and events.
Designers and architects can choose from exquisite finishes including woodgrain, marble, metal, textiles, or solid colors, the options are truly endless. The top-shelf modular panels are fastened together with metal connectors to create walls, columns, wall décor, archways and so much more. The museum quality finish will please any client in any space.
The modular walls, room dividers and columns are ideal for accenting retail window displays, boutiques, hotels, restaurants, corporate offices or your own Pied-a-Terre. Whether it's a marble finish or elegant woodgrain, these Premium Finish SuperLever panels can serve as the focal point of your next design.
"We've taken twenty plus years of experience in the live event industry and paired it with the high-end design esthetic of the architectural industry - melding the two worlds together. We couldn't be more excited to launch this product to interior designers and architects," said Rob Barber, Vice President of Rental Solutions at ATOMIC.
The modular panels connect with ATOMIC's patented SuperLever system and can be easily moved around a space for different looks or can be installed for a permanent accent décor. Call us today at 717-626-4408 to discuss all the design possibilities for your next interior showcase.
About ATOMIC:
Headquartered in Lititz, PA, ATOMIC is a creative company in the business of live events and environments for entertainment and brand communication. ATOMIC has a diverse collection of creatives providing set construction, rental solutions, design and production services to clients across the globe. Established in 1994, ATOMIC is rooted in the rock & roll industry, one of the original companies in Lititz, PA known as the Rock Lititz Community. ATOMIC serves clients from television networks to global brands to designers and artists. ATOMIC drives each project forward. No Surprises. Unique Results. For more information on ATOMIC please visit http://www.atomicdesign.tv