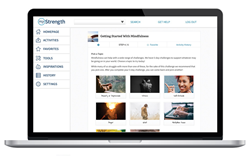 myStrength helps fit mindfulness into your day — whether you have one minute, five minutes or 30
DENVER (PRWEB) March 30, 2018
myStrength, Inc., the innovative leader in digital behavioral healthcare, announces an expansion of its interactive mindfulness and meditation activities and exercises, including an engaging 5-day challenge that encourages users to practice mindfulness through fresh inspiration each day. New evidence-based content includes topic areas like Calming Your Mind, Mindfulness and Anger, Mindful Self-Esteem, Mindfulness for Grief, Focus and Productivity at Work, and Mindfulness in Motion.
Research on mindfulness has identified numerous beneficial health outcomes including less emotional reactivity, increased cognitive flexibility, reduced stress as well as a heightened focus in mental acuity and memory. Mindfulness resources are also in high demand from clinicians and myStrength users alike. By integrating mindfulness alongside self-care resources for stress, anxiety, depression, substance use, insomnia, chronic pain, and opioid management, myStrength is pleased to expand its support for the prevalence of co-occurring health conditions.
"myStrength is committed to providing self-help wellness solutions that meet people wherever they are in their journey. Mindfulness is about living in the present moment and can help anyone engage more in their thoughts, emotions and physical sensations," said Joslin Alexander, myStrength's VP of Product Management. "We are thrilled to continue to offer new programs and innovative solutions that awaken the mind, body and spirit and facilitate overall well-being."
Included within the mindfulness expansion is myStrength's 5-day challenge, which is a focused practice of mindfulness. myStrength users are prompted to indicate an area of their life where they'd like to apply mindfulness, then begin receiving an email each day for five consecutive days that includes a new, quick and easy mindfulness activity. It's an ideal method to begin exploring mindfulness, or it can be an engaging enhancement to any existing daily mindfulness practice.
To request a demo or learn more about myStrength, please contact us at: https://www.mystrength.com/contact
About myStrength
myStrength, Inc.is a recognized leader in digital behavioral health. myStrength greatly enhances traditional care models, while addressing issues of cost, lack of access, and stigma, to deliver mental health and well-being resources at scale. Our platform targets the most prevalent and costly behavioral health conditions ─ empowering consumers with innovative self-care resources to manage and overcome challenges with depression, anxiety, stress, substance use disorder, chronic pain and sleep. myStrength's evidence-based resources offer digital interactive exercises, self-care modules and daily wellness inspiration, which is personalized to each user. myStrength collaborates with more than 150 health plans, integrated health systems, EAPs, disease management providers, managed and community behavioral health providers, strategic alliances, ACOs and FQHCs. For more information, please visit http://www.myStrength.com