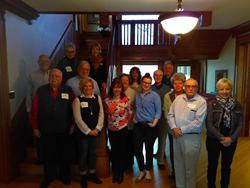 Being a CTA builds confidence to go above and beyond.
FRANKLIN COUNTY, Pa. (PRWEB) March 30, 2018
Franklin County Visitors Bureau (FCVB) announces April and May Franklin County Certified Tourism Ambassador (CTA) Training. The April class is set for April 23 at the new Coyle Free Library in downtown Chambersburg. On May 17, the class is being held at the Greater Waynesboro Chamber of Commerce. Both classes begin with an 8 AM registration.
CTA training is a nationwide training certification that helps communities know the value of their destination by providing information about history, culture, art, recreation, and outdoors. The program helps local residents, visitors, and organizations understand the value of Franklin County and be able to accurately and consistently share information with visitors. A CTA could be an event planner, a waitress, a real estate agent, a front desk person, or a docent of a heritage site. "The program is a good way to expand awareness of community, quality of life, and tourism assets," said CTA Director Doug Harmon.
In March, fourteen Certified Tourism Ambassadors graduated from the first Franklin County PA CTA training. The class included representatives from across Franklin County, including Chambersburg, Greencastle, Mont Alto, Quincy, Shippensburg, and Waynesboro. As well, eight CTA trainers were trained by the founder of the Certified Tourism Ambassador Program, Mickey Schaefer.
Being a CTA builds the confidence to go above and beyond with the visitor experience. Plus, it provides a way to network, support pride in community, stay in the know on local happenings, gain knowledge of local history and culture, and develop leadership qualities.
The Franklin County Visitors Bureau invites all to explore Franklin County PA and enjoy the history, arts, recreation, natural beauty, fresh foods and warm hospitality of communities like Chambersburg, Greencastle, Mercersburg, Shippensburg, and Waynesboro. Franklin County PA is located just north of the Mason Dixon Line and an easy drive to Washington DC, Philadelphia, and Pittsburgh. Discover more....plan your visit at ExploreFranklinCountyPA.com or by contacting 866.646.8060