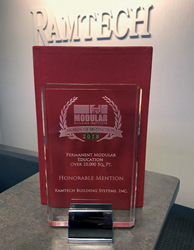 MANSFIELD, Texas (PRWEB) March 30, 2018
Design-build commercial modular building firm Ramtech Building Systems of Mansfield, Texas announced that the company has received a coveted Awards of Distinction trophy at the Modular Building Institute's 2018 World of Modular convention and trade show held March 22-25 in Hollywood, Florida. Ramtech received an honorable mention trophy in the permanent education category for a modular school campus expansion project built for Arlington Classics Academy of Arlington, Texas. Located on the charter school's eleven acre Dalworthington Gardens, Texas campus, the 37,329 square foot slab-on-grade permanent modular construction design-build project features 24 standard classrooms able to accommodate up to 528 additional elementary school students in the third through fifth grades. The modular school building has five special use classrooms for the school's art, music, speech, and special education programs, a cafeteria with a warming kitchen, administrative offices, a library annex with a tutoring center and learning lab, and a 3,000 square foot multipurpose exercise room with its own dedicated heating and cooling system. The requirements for the new facility called for Ramtech to provide full site development including the addition of two acres of paving to help ease the amount of vehicular traffic on the main feeder road during student drop-off and pickup times.
A record number of attendees and exhibitors from the U.S. and around the world participated in this year's World of Modular Conference. Capping off the event each year is the MBI's Awards of Distinction program, which this year included more than 100 entries in over 30 categories for facility types including relocatable, permanent, and renovated modular buildings. The competition includes building entries from MBI member manufacturers, dealers, and product and service providers which are judged by an independent panel of building design and construction experts on architectural excellence, technical innovation & sustainability, cost effectiveness, and energy efficiency. All of the winning entries will be posted in April on the MBI website at Modular.org.
About Ramtech and Slab-on-Grade Permanent Modular Construction
Since 1982 Ramtech Building Systems has been providing innovative relocatable and permanent modular buildings for educational institutions, government agencies, healthcare providers, and Fortune 500 companies throughout the Southern United States. As a design-build construction company, Ramtech offers full in-house design, a manufacturer direct product, and complete site construction services all within a single-source solution. Ramtech's Slab-on-Grade Permanent Modular Construction process combines the best of off-site prefabrication and on-site construction techniques in order to produce a building faster and with less cost but identical in the look, functionality and life expectancy of a completely site-built structure. Ramtech accomplishes this by setting factory assembled modular sections complete with attached ceilings and walls - but no floors - directly onto a conventional concrete slab foundation. This allows the concrete slab to become the floor of the structure just like a site-built building. For more information, visit the company's website at RamtechModular.com.