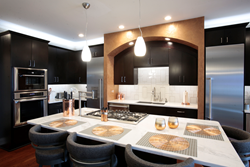 Anyone looking to renovate or remodel their home should attend our open house for ideas not seen elsewhere and it's a wonderful opportunity to get some new ideas and talk with experts who can answer your questions and guide you through the remodeling process
COLUMBUS, Ohio (PRWEB) March 30, 2018
Organized Home Remodeling, known for their functional design living approach to remodeling, is unveiling their newly renovated design center Saturday, April 21 and Sunday, April 22 at their Spring Open House in Columbus, Ohio.
The Design Center will showcase brand new, on-trend, functional displays for kitchens, baths, pantry, laundry, and offices. Their signature closet designs will highlight custom organizational systems.
According to Kathy Morgan, President of Organized Home Remodeling, "Our new showroom will blow people away. It's filled with the latest and greatest and some of the most popular design requests from our clients over the years." She continues, " Anyone looking to renovate or remodel their home should attend our open house for ideas not seen elsewhere and it's a wonderful opportunity to get some new ideas and talk with experts who can answer your questions and guide you through the remodeling process."
Some of the new displays are also inspired by items that caught the attention of Morgan and business partner Jeff Reasinger on social media sites Houzz and Pinterest. Jeff Reasinger, co-owner of Organized Home Remodeling is a licensed general contractor and Certified Remodeler by NARI, the National Association of Remodeling Industry.
The Design Center has their craftsmanship on view with custom cabinets and woodworking from their sister company, Buckeye Custom Cabinets and Closets. Buckeye Custom Cabinets and Closets is also wholly owned by Kathy and Jeff.
The Organized Home Remodeling Design Center Open House is Saturday, April 21 from 10 AM- 4 PM and Sunday, April 22 from Noon- 4 PM. The event is free. The center is located at 2045 Builders Place, Columbus, Ohio 43204. For more information please call 614-754-8234 or visit organizedhomeremodeling.com.
About Organized Home Remodeling
Organized Home Remodeling, a full-service design/build remodeling firm is located in Columbus, Ohio and is led by organizational expert, Kathy Morgan and licensed general contractor and certified professional remodeler, Jeff Reasinger. Combined they have over 34 years experience in remodeling and functional design. OHR serves the greater central Ohio area. They are members of the BBB, NARI, and NKBA. For more information about either business, call 614-754-8234 or visit them online at organizedhomeremodeling.com and bccandc.com. They can also be found on social media @organizedhomeremodeling and @buckeyecustomcabinets