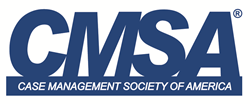 LITTLE ROCK, Ark. (PRWEB) March 30, 2018
CMSA's membership has elected two members to move into three-year national director roles on the CMSA National Board of Directors. In addition, CMSA's current president-elect will move into a new role as president and the current president will move into the role of immediate past president. These leaders will begin their terms at the end of CMSA's 28th Annual Conference & Expo held this year in Chicago, Illinois the week of June 19-23, 2018.
"CMSA actively supports case management and case managers from all genres of healthcare, across the full care continuum of hospital to hospice and everything in between. Therefore, to fully meet their needs, we need to have a diverse range of perspectives from all settings on our national board of directors," stated Kathleen Fraser, MSN, MHA, RN-BC, CCM, CRRN, CMSA national executive director. "To quote John Maxwell, 'Tend to the people, and they will tend to the business.' We will continue to deliver this support with another great board of directors."
The following four members will be installed to their new positions on the CMSA Board of Directors:
PRESIDENT
Jose Alejandro, PhD, RN-BC, CCM, FACHE, FAAN
2018-2020
IMMEDIATE PAST PRESIDENT
Mary McLaughlin-Davis, DNP, ACNS-BC, NEA-BC, CCM
2018-2019
DIRECTORS
Catherine Campbell, MSN, MBA, CHC, FACHE, CCM
2018-2021
Andrea Norton, BSN, CCM
2018-2021
CMSA president Mary McLaughlin-Davis, DNP, ACNS-BC, NEA-BC, CCM remarked, "Congratulations to our two new BOD members. We are grateful to all of our members who, because of their dedication, took the time and the energy to run for a position on the CMSA BOD. CMSA is a professional organization that is committed to its membership and provides continuing education, best practices, and professional growth and development. We look forward to a new year with a new board and new president."
About the Case Management Society of America (CMSA)
Established in 1990, the Case Management Society of America is the leading non-profit association dedicated to the support and development of the profession of case management. CMSA serves more than 30,000 members, subscribers and participants, and 80 local and international chapters through educational forums and products, networking opportunities, legislative advocacy and established standards to advance the profession. For more information, visit http://www.cmsa.org or follow CMSA on Twitter @CMSANational