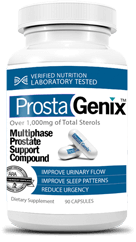 This is the most powerful nutritional supplement for prostate health known to science. This is also the most effective of all supplements for lowering your cholesterol and triglycerides
BEVERLY HILLS, Fla. (PRWEB) March 31, 2018
The unique ProstaGenix ingredients contain an all-natural combination of Beta-sitosterol and "Triple-Crown" blend to produce the most effective prostate pill supplement for men all over the world. Taken in pill form, the prostate supplement helps reduce nighttime urination, reduce urgency, improve bladder emptying, and has even helped improve intimacy.
According to multiple clinical lab studies, the most effective element in the ProstaGenix ingredients list is the powerful plant sterol called Beta-Sitosterol, that has been proven as the most beneficial compound in nature to help with prostate health.
In two separate double-blind, placebo-controlled clinical studies, 200 men who took beta-sitosterol saw their symptoms decrease by nearly 50%, their urine flow increased by 35% and voiding time plummeted 32%.
"This is the most powerful nutritional supplement for prostate health known to science. This is also the most effective of all supplements for lowering your cholesterol and triglycerides," said Roger Mason, PhD, chemist, and the world's number one recognized expert on natural prostate health.
The unique selling point of ProstaGenix ingredients is the amount of Beta-sitosterol. Although other products contain small amounts of it, the outstanding strength of the ProstaGenix formula is due to the proprietary blend of Beta-Sitosterol called BetaRexin – which contains more than twice the total sterol count than other products. It is the first and only oral dietary supplement with over 1,000 mg of mixed sterols including over 800 mg of BetaRexin sterols.
In addition to the unique Beta-Rexin ingredients that set the prostate supplement apart from its competitors is what they call the "Triple Crown" weapon. Not an actual weapon, but a 500 mg blend of polyphenol that contains grape seed extract, pomegranate extract, and quercetin – all ProstaGenix ingredients shown as vital for prostate health. The combination of these ingredients has a synergistic effect that proves more effective than when each is taken alone.
With a combination of all-natural ingredients like these, ProstaGenix was rated the World's Best Prostate Supplement by organizations such as the National Health Federation and Prostatepillreport.com.
With a history of safe use and no known side effects, the prostate pill supplement meets all FDA regulations and has no known contraindications with medications. Most men start to notice a significant difference in the first 30-45 days, but more results are seen the longer you take the supplement. If no results are seen within 90 days, there is an iron-clad money-back guarantee.
For more information, visit the ProstaGenix website or reach them at their phone number, 800-801-0294.