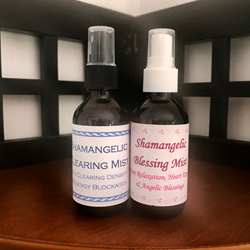 Essential oils are known to have physical and psychological benefits.
SEDONA, Ariz. (PRWEB) March 31, 2018
Shamangelic Healing of Sedona, Arizona is now offering two custom blended essential oil sprays designed for personal healing or to be used by practitioners with clients in healing sessions or ceremonial rituals. Shamangelic Clearing Mist is designed for clearing density and energy blockages, while a Blessing Mist is formulated for deep relaxation or angelic blessings.
"These sprays have been created to allow one to go deeper in their healing session," said Anahata Ananda, founder of Shamangelic Healing. "Essential oils are known to have physical and psychological benefits." Some research studies show positive effects for a variety of health concerns including infections, pain, anxiety, depression, premenstrual syndrome, nausea and more.
The Shamangelic Clearing Mist is a proprietary blend of essential oils, including sage and palo santo, that are specifically formulated for clearing out density and heaviness. It can be used for clearing homes, dissipating negative energy after a heated argument, or clearing one's aura of stress and anxiety.
The Shamangelic Blessing Mist is a blend of essential oil floral scents, including lavender and rose, which are said to enhance spiritual awakening, promote relaxation and provide a sense of peace and calm.
Essential oils are age-old remedies that have gained popularity in modern times. Herbs and plants have been used for thousands of years as natural remedies for healing, cleansing and connecting to the spiritual realms. Essential oils are highly concentrated non-water soluble phytochemicals that are distilled from different parts of the plants. Due to their concentration, they are highly potent and can be applied topically (usually diluted with a carrier oil), diffused into the air, combined with water for a spray mist, or in some cases, taken internally with great care.
The Shamangelic Healing Center offers a [Healing Tools & Modalities Course twice a year to train people of all levels in how to use essential oils and other tools, such as drums, tuning forks and crystal bowls, for personal healing or as practitioners offering healing sessions with clients. The next course is scheduled for October 2018.
Anahata Ananda has trained extensively with gifted shamans, energy healers and spiritual teachers from around the world to artfully integrate the fields of spirituality, energy healing, self-empowerment and shamanic teachings. Her client-base spans the globe with individuals from all walks of life who are seeking to heal and awaken to their fullest potential.
Anahata offers a variety of Shamangelic Healing services year-round in Sedona, Arizona including private sessions, sacred land journeys and training courses that incorporate Shamanic teachings and other energy healing modalities. She also offers Tailored Retreats for individuals, couples and small groups that can include a combination of offerings based on various needs and areas of interest.
Shamangelic Healing is a premier center for Shamanic healing and spiritual awakening in Sedona. It is nestled beneath Thunder Mountain with breathtaking views and within walking distance to a medicine wheel and healing vortexes, making it the perfect setting for healing and expansion.
For detailed descriptions and a calendar of all training courses and spiritual awakening services offered by Anahata visit http://www.shamangelichealing.com/