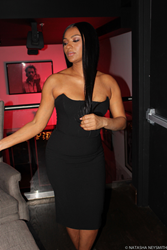 New York (PRWEB) April 01, 2018
On March 15, 2018, WoWEbony's Brand Ambassador, Tara Wallace, hosted a private event to celebrate a successful first quarter of 2018 and to thank the publications that aided in that success.
Held at VNYL, a lifestyle space in downtown New York, Wallace welcomed editors and digital influencers including representatives from Bossip.com, Madame Noire.com, Intouch Weekly, Life & Style Magazine, People Magazine, Essence Magazine, and Shade 45 Sirius XM.
Guests dined on innovative and creative hors d'oeuvres and sipped craft cocktails while listening to sounds curated by VNYL's music director, Adrian Grenier.
Wallace took photos with guests and discussed some of the upcoming things they could expect from WoWEbony this year. Editors listened intently as Wallace discussed the importance of aligning herself with a brand whose products she wore, believed in and was excited to share with those in her ever-growing network who look to her as a source whom they can trust.
WoWEbony is the go-to brand for beautiful, custom, lace wigs that allow you to transform your look at a reasonable price without sacrificing quality. WoWEbony's customer service team is always available for service before, during and after the sale to ensure that all questions or concerns are promptly addressed.
As WoWEbony leaves a great quarter behind, there is anticipation as they look towards the exciting things to come next quarter and beyond. WoWEbony is beyond grateful for their partners and the many editors who contributed to all they have been able to accomplish.
Check out WoWEbony.com for premium lace wigs at an affordable price and to stay up to date on their latest news, be sure to follow WoWEbony on Instagram and Facebook.
About WoWEbony
WoWEbony is dedicated to offering premium, handcrafted hair enhancement products for women of color, including full lace wigs, weaves and weft, hair closure, lace front wigs, 360 lace wigs, and more.