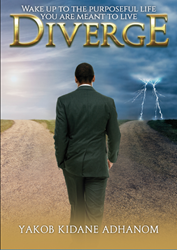 "What matters for his failures or successes is not what others say about him, but what he chooses to do."
ATLANTA (PRWEB) April 05, 2018
Building from Yakob Adhanom's experiences of one day's mistake which snowballed into brutal failures, setbacks, and disappointments, "Diverge: Wake up to the purposeful life you are meant to live" (published by Create Space) tracks one man's conviction to turn around his life course and attain a new perspective.
Congratulations! Young HAYET AFRICA graduated from high school and got accepted for a full scholarship at a prestigious ivy league university. He thinks he has an easy road ahead. However, he is wrong. Hayet bites the gold dust and becomes a prodigal student in college. The aspiring student deviates from purposeful living. Instead of admitting and diverging from his wrong doings, he decides to hide his failures and continue wild living. Eventually, his poor choices catch up with him, causing suspension from his university a few months before graduation. He learns life the hard way, how to prioritize, bringing the failed actual and the shortchanged himself to a greater or equal level of who he is meant to be.
In Diverge, author Yakob Adhanom tells an up-lifting story of abandoning purposeless life for a fulfilling life. The archetypal protagonist undergoes thirty-years of purging and sifting. Learning from his failures, he is shaped and set up for greatest victories in his life, becoming a suitable transforming catalyst of the lost into productive citizens by investing in humans and empowering communities.
Adhanom has based Hayet's story on real events that made him to be who he is today, as a cautionary tale for young people beginning their life's journey. Diverge, walks him through creating a strong, faith-filled journey built on the solid rock of objective, finding empirical evidence for an unshakable foundation for your life, and initiating awareness for a greater discussion about uncovering God's plan for your life committing yourself to achieve and fulfill your true purpose. Check it out. This is the life with no regrets.
"Diverge: Wake up to the purposeful life you are meant to live" Published 04/01/2018
By Yakob Adhanom, Procurement Investment Group, LLC
Softcover | 6 X 9 in | 446 pages | ISBN 9781537007793
Kindle Book 435 pages
Available on CreateSpace, Amazon, Barnes & Nobles, your local and online book stores.
About the Author
Yakob Adhanom was born in Eritrea, East Africa. As a teenager, he was involved in wholesale and retail business of his own when he became a refugee, migrated out of his country due to political instability and made it to the U.S. After surviving through myriad life struggles that could either break his personhood or make him a better person, he stands as a testimony that success is achievable to those who hassle and refuse to become lamenting and whining victims of their circumstances. In his job adventure, the multi-task Yakob Adhanom now works for Gwinnett County Public Schools. Also, he is the founder and the president of Procurement Investment Group, LLC., in Atlanta, Georgia.
Contact the author/representative:
http://www.Yakob.org
admin(at)yakob(dot)org
Tel. 404-720-8138
Contact publisher: http://www.createSpace.com