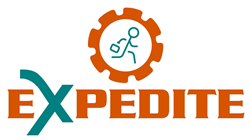 Don't just book it, Expedite it. Last-minute litigation support requests are covered with Expedite.
Tampa, Florida (PRWEB) April 02, 2018
Expedite is a marketplace product that brings users and providers to one location…your cell phone. Join the Expedite revolution today and start Expediting your world to unleash exponential benefits.
In the first launch, users will have the ability to find and schedule providers both 'NOW' and 'TODAY', but we are building a 'FUTURE DATE-AND-TIME'-job-scheduling capability in an upcoming future upgrade. Expedite is now offered in the Tampa Bay area, its hometown, with plans to roll out across America in the following months.
Expedite is bringing modern technology to an antiquated service model, eliminating inefficiencies in the legal market and disrupting the status quo. Attorneys/paralegals/firm owners benefit from expeditious, convenient support providers, and service providers benefit from a centralized source of work with no marketing costs. In addition, Expedite's model creates efficiencies for providers to scale their business in a way that was not available to them before. Those Monday-morning emergencies where attorneys/paralegals realize they have forgotten to order a court reporter for a hearing/trial or a videographer for a deposition no longer need cause undue stress. Expedite provides instant access to the vast network of providers in their immediate vicinity. Once they've selected the service, location and time required, providers in the area will receive an instant notification that someone needs assistance. It's that easy.
The app has a very simple design, but also incorporates a few unique features, to ensure a pleasant experience for both users and providers. Expedite utilizes Twilio, an encrypted in-app text/call messaging service; Stripe, a secure payment processing service; and a five-star rating system that allows users to make more informed decisions when selecting providers. People are looking for a vote of confidence based on others in their community. Ratings provide transparency for the user and benefits the marketplace.
Download Expedite from the App Store, Google Play, and visit our website, http://www.Expedite.legal, today. Get on board or get left behind, but certainly get back to managing your calendar more effectively with Expedite!