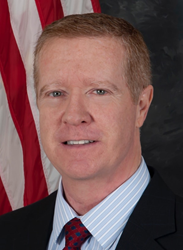 "Threat Intelligence isn't intelligent if it doesn't do anything." - Brent Watkins
LAS VEGAS (PRWEB) April 03, 2018
Axiom Cyber Solutions is proud to announce and welcome Brent Watkins as its new Head of Business Development.
Prior to joining Axiom Cyber Solutions, Watkins was a Special Agent with the Federal Bureau of Investigation and ran the Las Vegas chapter of InfraGard. Following his retirement from the Bureau in 2016, Watkins was the Director of Corporate Security for Diamond Resorts International. Watkins also holds a Master's in Business Administration from the National University and two Bachelor's in Electrical Engineering and Chemistry from the University of South Florida.
With over 21 years of cybersecurity investigative expertise and years of experience running the InfraGard program, Watkins has the technical background and collaboration skills to drive market awareness and strategic partner development for Axiom Cyber Solutions.
Troy Wilkinson, CEO of Axiom Cyber Solutions stated, "We are fortunate to have Brent on our team. Our similar paths of helping victims of cybercrime has instilled in us a desire to do more, innovate more, and change the business model so that small and medium businesses can get the same level of protections that large organizations have long enjoyed. I am excited about the opportunities ahead of us and most importantly helping educate business owners that there is a choice, there is an alternative to old and antiquated methods that just don't work any longer."
Brent added, "I investigated cybercrime and data breach cases for over 21 years as a Special Agent of the FBI, so I'm familiar with countless private sector cybersecurity firms. Axiom stands out because they're passionate about serving the small business space and offer highly effective, affordable solutions. I'm glad to see that cybersecurity for small businesses is being addressed. After looking at the landscape I joined Axiom because I too am passionate about supporting the small business community, and in my opinion, Axiom provides the best product and services for them."
As the Head of Business Development for Axiom Cyber Solutions, Watkins will guide strategic partner initiatives & relationships, and ensure that Axiom's clients receive the best-in-class service that Axiom is committed to providing with its innovated cybersecurity solutions.
About Axiom Cyber Solutions: Axiom Cyber Solutions is a U.S. based cybersecurity company responsible for some of the most unique and most capable security solutions on the market. Axiom provides everything that a company needs to get protected including hardware, software, monitoring 24 hours a day, and most importantly updating over 350,000 threat data points per day to guard against a data breach. Axiom builds upon MikroTik RouterOS to create one of the most advance polymorphic threat intelligence platforms available in the market. Axiom's solutions are based on a low monthly subscription to be affordable for all businesses, regardless of size. To find out more about Axiom Cyber Solutions, please visit https://www.axiomcyber.com/
Media Contact
Shannon Wilkinson
marketing(at)axiomcyber.com
800-519-5070