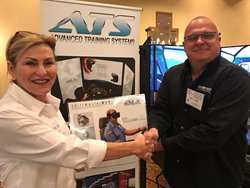 "I feel like we just won the lottery" says John T. Smith, Director of Southern State Truck Driving Academy
ST. PETERSBURG, Fla. (PRWEB) April 12, 2018
ATS introduced its advanced training simulator featuring 360⁰ virtual reality goggles along with its patented motion platform at the 2018 Association of Publicly Funded Truck Driving Schools (NAPTDS) conference. "The reality of this next-generation technology will allow drivers, both novice and experienced, to train in a hyper realistic system which all but eliminates SAS (simulator associated sickness)" commented Rebecca W Hudson, VP of Marketing for ATS.
The response of NAPTDS attendees was overwhelmingly positive. The comments ranged from "This is the future of training" to "I can't wait to training backing in this system". So overwhelming was the response that ATS provided a simulator with 360* goggles as a give away to one of the conference attendees.
Southern State Community College was the lucky recipient. John T. Smith, Director of the Truck Driving Academy of Southern, commented "I feel like I have won the lottery! We have needed and wanted a simulator for so long and now we have the best!" Southern State will take possession of their new simulator the first of May, 2018.
Hudson commented to the conference prior to the drawing - "The people involved in trucking are the salt of the earth and training is KEY. ATS wants to do their part with this give away."
Advanced Training Systems (ATS) is a high-tech simulator technology and engineering firm that has revolutionized the design and manufacture of advanced training systems to improve training and create safer drivers. ATS, the holder of multiple patents in high-tech training simulation, has as its mission to provide this cutting edge adaptive training to all involved in the transportation industry at an affordable cost, resulting in safer drivers/operators. For more information, contact Rebecca Hudson, VP of Sales and Marketing, at 800.870.5782 ext. 204 or Direct Line 727.560.4846.