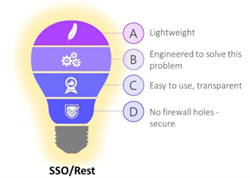 By integrating SSO/Rest into our service offerings, we can now offer our previously legacy-bound customers a viable path to the Cloud. - CoreBlox President Todd Clayton
(PRWEB) April 06, 2018
Today, CoreBlox, a premier provider of Identity and Access Management security solutions for enterprise, federated and cloud environments, and IDF Connect, a leader in Cloud-enabled Web Access Management (WAM) solutions, announced the launch of a partnership agreement. The partnership will enable CoreBlox' customers to purchase and implement IDF Connect's flagship product, SSO/Rest 3.0, directly through CoreBlox, thereby expanding customer options and streamlining the acquisition process. SSO/Rest 3.0, an innovative, REST-based enterprise SSO and Web Access Management solution, was developed by IDF Connect specifically to enable enterprises with traditional, on-premises WAM solutions to cover new Cloud-based infrastructures and applications.
"We see CoreBlox as a natural partner," explains CEO Richard Sand. "SSO/Rest's unique ability to extend full enterprise WAM to Cloud-based applications provides CoreBlox' customers with a powerful new tool for securing their Cloud operations." CoreBlox President Todd Clayton agrees: "By integrating SSO/Rest into our service offerings, we can now offer our previously legacy-bound customers a viable path to the Cloud."
About SSO/Rest™
SSO/Rest is a lightweight, easily implemented HTTP and REST-based solution that enables enterprise SSO and Web Access Management for Cloud-based applications. SSO/Rest protects applications outside of your corporate boundaries just as if they were inside your own data centers, with the full capabilities that your WAM infrastructure has to offer. You can read more about SSO/Rest on IDF Connect's website: https://www.idfconnect.com/products/sso-rest/.
About IDF Connect
IDF Connect provides innovative Web Access Management solutions to enterprises and other large organizations. A member of CA Technologies Technology Partner Program, IDF Connect specializes in helping customers enable SSO and WAM for Cloud-based applications by extending – rather than replacing – existing, on-premises WAM technology. For more information visit http://www.idfconnect.com or contact IDF Connect at info(at)idfconnect(dot)com.
About CoreBlox
CoreBlox is a leading provider of enterprise security services. A CA Platinum Services Partner, the CoreBlox team specializes in single sign-on (SSO) and web access management solutions, SAML and identity federation services, and LDAP Directory Virtualization. CoreBlox has broad experience managing, executing and supporting Identity Management deployments. CoreBlox' commitment to service excellence has won successful clients across the Fortune 500. For more information, please visit http://www.coreblox.com.