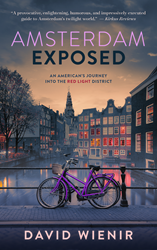 "A provocative, enlightening, humorous, and impressively executed guide to Amsterdam's twilight world." – Kirkus Reviews
WEST HOLLYWOOD, Calif. (PRWEB) April 10, 2018
One of Europe's most culturally unique cities, Amsterdam lures millions of visitors to its cobblestoned streets every year – including many in search of an experience to remember in its cannabis-filled coffeeshops and historic red light district.
While there's no shortage of travel books claiming to reveal everything there is to know about touring the city, this year marks the arrival of a story about the Dutch capital unlike any before: Amsterdam Exposed: An American's Journey Into The Red Light District by David Wienir (Making It On Broadway, 2004, etc.) set for release in May 2018 with De Wallen Press.
A perceptive, heartfelt, and groundbreaking memoir, Amsterdam Exposed takes place in 1999, days before the turn of the millennium, as Wienir – then an Ivy League exchange student – finds himself newly arrived in a city a world apart from the innocent San Fernando Valley cul-de-sac in which he was raised.
Fascinated by the women in the windows and determined to learn more about them as human beings – their histories, hopes, and dreams – readers follow Wienir as he wanders through the city's twilight world, immerses himself in Dutch culture, attempts to befriend prostitutes without becoming a customer (a rule he sets for himself), and ultimately undergoes a paradigm-shifting transformation regarding the world's oldest profession, and humanity itself.
An American abroad and love story eighteen years in the making, Amsterdam Exposed is an uplifting tragedy that pulls back the shroud of secrecy and shame that has long cloaked the women of the district from full view, dispelling misconceptions and taking readers on an emotional, unadulterated, and unprecedented journey that will forever reshape their understanding of one of the most famous tourist attractions in the world and the women who work there.
"I began working on this book as the events happened. It has taken me almost two decades to share it with the world," Wienir explains in the prologue. "My life had evolved, and my career had taken me into corporate America, where I knew many would be quick to judge a book of this nature, given the subject matter and everything that comes with it. I would be judged, too. There is nothing corporate America likes less than someone trying to change the status quo, or worse, someone who strays from the herd.
"Every year since 1999, my perspective on the story changed. Ultimately, something kept me coming back," he continues. "It wasn't just the story of a 26-year-old American in Europe, and it wasn't just a promise that had to be kept. It's simply a story that must be told. There's never been another one like it."
As compulsively readable as it is thought-provoking, Amsterdam Exposed is as close as you can come to a free trip to Amsterdam without leaving your couch. The book reveals:

The devastating realities of Amsterdam's red light district and the women who inhabit its sexy, neon-lit streets.
A world just about gone, as working girls are now being exiled from the city's core and coffeeshops selling cannabis are shuttering their doors.
Deep insights into prostitution, in Amsterdam and beyond.
An authentic coming-of-age story about conquering fear, stepping outside your comfort zone, embracing change, and doing the impossible.
What life was like as an American exchange student in Europe in the late '90s.
The inherent worth of the individual – even (or perhaps especially) those who society deems contemptible and worth "less".
2018's most unusual love story: how the author's friendship with, and promise to, a Dutch prostitute shaped him – and changed both of them forever.
A must-read for anyone who has ever spent time in Amsterdam or dreamed of doing so, Amsterdam Exposed will be available for purchase everywhere books are sold May 1, 2018, and is available for pre-order on Amazon today.
About the Author:
David Wienir is a business affairs executive at United Talent Agency and entertainment law instructor at UCLA Extension. Before UTA, he practiced law at two of the top entertainment law firms where he represented clients such as Steven Spielberg and Madonna. Amsterdam Exposed is his fourth book. Educated at Columbia, Oxford, The London School of Economics, Berkeley Law, and the Vrije Universiteit Amsterdam, David is married to Dr. Dina (to whom the book is dedicated), a pioneer of the cannabis movement who has been named "Queen of Medical Marijuana in LA" by Rolling Stone Magazine and is the inspiration for the Nancy Botwin character in the show Weeds.
Keep up with all things Amsterdam Exposed at http://www.amsterdamexposed.com and connect with David on Facebook, LinkedIn, Instagram @RedLightDistrictBook, and Twitter @AmsterdamBook.
ADVANCE REVIEW COPIES AVAILABLE UPON REQUEST
Contact: Sarah Miniaci
856.489.8654 x329
sarah.miniaci(at)smithpublicity(dot)com