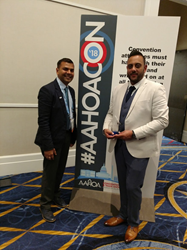 Hotel Bella is at the apex of luxury boutique hotels not just in the U.S. but the world over.
NATIONAL HARBOR, Md. (PRWEB) April 09, 2018
Hotel Bella, Houston's new luxury boutique, was named IAHA Independent Hotel of the Year by the Asian American Hotel Owners Association (AAHOA) at its annual convention and trade show on March 28. The largest gathering of hotel owners in the U.S. with more than 6,000 participants, the AAHOA convention was held this year at the Gaylord National Resort & Convention Center outside Baltimore, Maryland.
The award honors Hotel Bella for setting a high standard of excellence in quality, service and guest satisfaction, according to the AAHOA. It is awarded to a specific hotel for excellence rather than an independent hotelier in general. The AAHOA is the largest hotel owners' association in the world. It's nearly 18,000 members own almost one in every two hotels in the U.S.
Hotel Bella, located in the Northwest Willowbrook area, Houston's downtown business district, opened in Summer 2016. It was designed by the owner, Jayson Patel, a hospitality interior designer, and reflects his modern take on architecture with 43 clean, spacious studios and suites, spa-inspired bathrooms and luxurious amenities.
Hotel Bella's website and photography were created by Websrefresh, a Phoenix-based web design and web development company that specializes in SEO services and online, Internet and digital marketing for hotels. Websrefresh is well-known for creating award-winning websites designed to help hotels flourish in the world of digital technology.
Nimesh Dinubhai, President of Websrefresh, said, "It comes as no surprise that Hotel Bella won this very prestigious award. Hotel Bella is at the apex of luxury boutique hotels not just in the U.S. but the world over. We are continually impressed by how many visits Hotel Bella gets to its website, and the overwhelmingly positive response it receives."